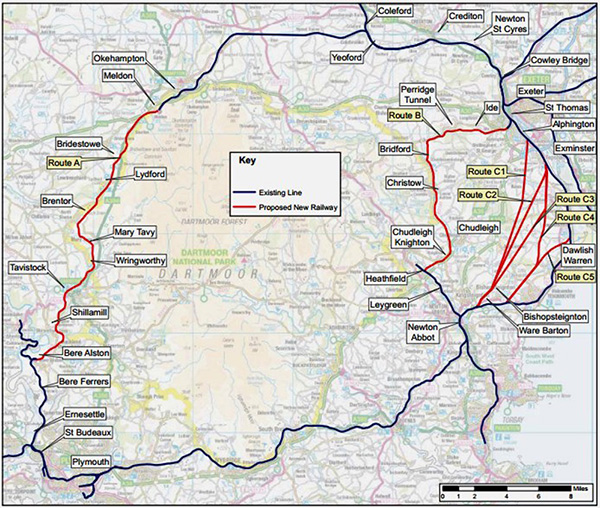 ​The Dartmoor Society Debate 2014: What Future for Railways and Their Heritage on Dartmoor?
Meldon Village Hall, Saturday 11th October 2014
The image right is a map showing the existing line as well as proposed reinstated or new lines.
Tom Greeves, Chairman of the Dartmoor Society, welcomed some 70 people to Meldon, and then temporarily handed over chairmanship to Dr Judy Ehlen to oversee his presentation, titled 'The Archaeology of Tramways and Railways on Dartmoor'.
He showed a photograph of Meldon Viaduct taken soon after its completion in 1874 when it was still a single span. He then raised the question of which were the earliest tramways on Dartmoor. They are known in mining contexts elsewhere from the late 16th century, and it is possible that some late 18th century Dartmoor mines had tramways. Ailsborough Mine certainly had tramways by the 1820s at the latest.
One of the earliest uses of horse-drawn tramways was illustrated by Samuel Prout who recorded the building of Dartmoor Prison from 1806. The Plymouth and Dartmoor Railway (a horse-drawn tramway) was opened in 1823 primarily to convey Dartmoor granite to Plymouth. Two images date to 1873 – an engraving of spectators being conveyed on the tramway at Yelverton, and a photograph showing the line on Yennadon Down. A wharf on Roborough Down near Clearbrook still survives and nearby is the number 13 milestone.
Among artefacts of the tramway is an iron 'chair', found by David Colton and now at Tor Royal, in which the rails were fixed and then bolted onto granite sleepers, which survive in several places. Where the tramway crossed the Yes Tor Brook, a fine bridge survives. The line of the steam railway between Yelverton and Princetown, opened in 1883, took a more direct route and both lines can be clearly seen.
At Swell Tor Quarry there survives an inclined plane which was described by Revd Bray of Tavistock in 1831 as being 'of great breadth on which there were massy chains upon rollers'. Another inclined plane with its winding house survives at Dewerstone Quarry. This example probably dates to about 1850.
1846 saw the creation of the Blackabrook Head tramway to serve peatworks near Princetown. It operated for just under thirty years until 1877. On the south moor the Zeal Tor tramway was constructed in the same year to connect Redlake to Shipley Bridge on the River Avon. It was used first for peat and later for chinaclay. Unusually it had wooden rails, of which some still survive. A milestone recording 2 miles from Shipley Bridge was re-erected on the initiative of the Dartmoor Society.
The Rattlebrook Peat Railway reaches 1800 feet OD. It was started in 1879, was standard gauge and originally may have been horse drawn, but later a petrol driven engine was used. Sadly, all that is left of the Princetown Station (1883-1956) complex is a small building reputed to have been a stable.
Many Dartmoor mines had tramways in the 19th century and tram rails and waggons were often advertised. The tramways themselves are little-known and poorly recorded, but are widespread. Ailsborough, Kelly, Hemsworthy, Holne Chase, Ringleshutes, Whiteworks, Hexworthy, Vitifer, Golden Dagger and Wheal Jewell mines all had them.
Dartmoor is also surprisingly rich in military target tramways, of which the best known is that at Rowtor where a shed contains a mid-20th century Wykeham trolley for carrying targets. There are earlier ones at Reddaford that predate the First World War, with rails and bunkers still intact. A horse-drawn target tramway once existed south of East Okement Farm, and another on Blackdown.
Tramways were used in the construction of reservoirs such as Burrator in the 1890s, and a light railway was once proposed to link Merrivale Quarry across the River Walkham to the Princetown Railway.
After coffee, Tom Greeves introduced Bernard Mills, a former railwayman with a passionate interest in railways, who has recorded them through photography. Bernard started his presentation on 'Working Railways as Remembered Through Photographs' by reminding us that there is still a working railway within the National Park, which is the 'main line' passing near Ivybridge. He then showed a wonderful selection of his own historic photographs dating from the 1950s to the present day, revealing how the infrastructure of railways had been devastated and how the landscape had been radically altered, either by physical works or growth of vegetation. Many of his images are beautifully composed and 'before and after' shots are especially important as an historical record. He lamented the loss of the wooden station building at Moretonhampstead, which he photographed in August 1963, commenting, 'If only this building could have been saved'.
In discussion, Judy Ehlen asked what exactly is meant by a railway 'wharf'. Bernard Mills informed her that as the railways were being developed they borrowed maritime terms for buildings used for storage etc.
Vernon Coon said it was interesting to see the old pictures of Ashburton Station as there is a master plan called the Chuley Road Development Plan whereby the Ashburton Station site would be redeveloped as a new supermarket and a car park for 200 cars. Chris Bligh observed that it would be interesting to know how many train sheds like the one shown on Bernard's photos at Ashburton are still left standing. Bernard Mills thought few survived, and maybe only two.
Tom Greeves asked if anyone could think of any other structures in danger like the little hut alongside the Lake Viaduct? Susan Taylor mentioned that the Totnes Signal Box had been listed last year and had been saved at the last minute.
Philip Hull commented that he felt that DNPA were the enemies of conservation. He cited the target tramway by East Okement Farm which survived well until the 1980s when DNPA asked MoD to remove a good section of the track. Members of the Ffestiniog Railway demolished it and took it back to Wales but subsequently found it was fit only for scrap.
Andy Roden observed that in regard to South Brent Signal Box in particular, Network Rail are brilliant at acting first and then asking questions later, and they are also liable to bend to certain amounts of pressure, so it is important that we 'do not take no for an answer'.
Geoffrey Wrayford asked if there is a co-ordinating body looking after our railway heritage. Tony Hill, who works closely with the South Devon Railway Trust, said the Heritage Railway Association is a privately run organisation interested in protecting railway heritage. He also said that South Brent Signal box has been offered to the Plym Valley Railway. He was amazed that the South Devon Railway had not taken an interest in relocating the Ashburton train shed.
Christine Marsh is Vice-Chairman of the Devon Historic Buildings Trust. She said that the Trust was always looking out for small buildings that might deserve preservation. The Trust web site is www.dhbt.org.uk.
After a fine buffet lunch, provided by the Original Pasty House in Tavistock, Richard Searight of the Peninsula Rail Group, spoke on 'The Case for Opening the Tavistock to Okehampton Line'. He began by stating 'The last train from Tavistock is 46 years 4 months and 4 days late and counting!' The closure of the Dawlish line earlier in the year created a real opportunity to reinstate the original northern line (Plymouth-Exeter via Tavistock and Okehampton).
Chris Bligh, a railway engineering consultant then presented an overview of the present state of the line and noted that there are a few bridges missing near Tavistock. Sustrans have also taken over some of the track route as a cycleway. In 2010 a West Devon report stated that Shillamill Tunnel and Shillamill Viaduct, both west of Tavistock, were both in bad repair but this was misleading. Devon County Council now plans to reopen this part of the line, between Tavistock and Bere Alston. Chris said that it would not be difficult to repair the whole line and that Meldon Viaduct was not such an engineering issue as today's trains were significantly lighter in weight.
Richard presented an analysis of various routes:
Dawlish Route – with extra defences – status quo – cheapest!
Southern Routes – avoiding Dawlish – status quo + totally weather resilient + faster.
The Teign Valley line – ruled out due to flood risk.
Northern Dartmoor Route plus Dawlish.
faster trains – under 3 hours Plymouth to London.
totally weather resilient rail access to the South West.
opens up West Devon and North Cornwall to business – 100,000 new customers and potentially 2 million extra ticket sales!
doubles rail capacity into the peninsula i.e. 'future proofing'.
reduces rush hour road congestion to Plymouth and Exeter.
provides security of two lines.
has transformative effect on economy & tourism.
makes both Plymouth and Exeter routinely accessible for business, education and leisure.
cheapest option by 40%.
journey times are directly comparable to Dawlish route (53 minutes – or less).
adds capacity to, and decreases journey times, on the Tarka line.
Tamar Valley line receives more frequent services enabling some Cornish services to have reduced journey times.
Meldon Viaduct could be strengthened for £15-20m – 60% cheaper than a new Viaduct.
the Benefit Cost Ratio (BCR) case looks at recouping the £875m cost over 60 years. In Scotland and Wales this capital cost is investment. The line would provide revenue of £2m per year.
tendering for some construction work could be cheaper as Chiltern did with Warwick Parkway.
Richard said it was important for everyone to keep up the pressure and to speak with one voice.
In the Discussion session John Ball asked what future is there for the smaller stations? Richard said that he would like to see trains stopping at as many stations as possible.
Bernard Mills observed that he believes the revenue base is there because when he was a lad in 1965 Tavistock North station was taking £1,000 per week. He was concerned about the resilience of the line when the weather is really bad, such as in the winter of 1963. Richard Searight said that in 1963 they didn't have such things as point warmers and Chris Bligh added that at present he works for a rail company that runs trains from Aberdeen to Penzance and these days the railways in general are more resilient than roads, especially when it snows. However, no railway is completely resilient.
Paul Voaden mentioned the importance of having a rail connection on the north of the moor near to the A30. Chris Bligh agreed, and said that this was already under consideration as a Sourton Parkway Station.
Colin Burges then spoke about the Exeter & Teign Valley Railway and the arguments to reopen this inland railway route between Exeter and Newton Abbot as a functional and tourist branch line with invaluable diversionary capacity. In his teenage years he was fascinated by the Teign Valley Railway, especially Longdown Station which is at the summit of the railway, between two tunnels.
One Sunday afternoon, when he was 17 years old, he went for an interview with Commander Edward Eden, who was the then owner of a section of the Teign Valley Railway and he showed him his plans for the railway. The project commenced but, sadly, the Commander soon died and his wife had no interest in continuing with the project.
Many years later, Colin, by then a lot more knowledgeable about railways, had the opportunity to buy a length of railway at Christow Station. He began work on a small section of the railway in 1984.
Until 1958, there were two ways of avoiding the main line railway between Exeter and Newton Abbot during emergencies. Between 1958 and 1968 there was only one alternative via Okehampton, but that route was only of value to Plymouth and Cornwall.
The 'Atmospheric' main line conveniently serves Starcross, Dawlish Warren, Dawlish and Teignmouth. It also acts as a river and sea defence for much of its length. Its scenic splendour can hardly be overstated. Despite last winter's Dawlish debacle the sea wall carrying the South Devon Railway's main line between Langstone Rock and Teignmouth has on the whole been remarkably reliable. But because of the line's exposure to the sea it is one of the most expensive to maintain. However, no one should seriously suggest that it be diverted or abandoned in favour of another route.
The Dawlish Avoiding Line scheme was seized upon by people with little understanding of its origin. A factor for its construction was not only the vulnerability of the coastal route but also the heavy holiday traffic which, in the 1930s, was at its most intense for a mere ten summer Saturdays. Today the route that line would have taken is substantially developed on the outskirts of Dawlish and Teignmouth. In Colin's opinion this grandiose, unnecessary scheme should not be revisited.
A rather weak campaign was begun by the Western Morning News to press for a Westcountry high speed line, or at least an alternative route. From Exeter to Newton Abbot by rail is 20 miles and today it is covered in a nonstop 19 minutes or less. If a new line were to make a junction at Exminster and run dead straight to Newton Abbot the overall distance would be 16 miles. St David's to Newton Abbot is 14 miles as the crow flies. A direct high speed line costing £500 million or more would save 8 minutes at most, a reduction which could be achieved by electrification through to Plymouth.
The great disadvantage of the former Southern Railway mainline between Exeter and Plymouth (via Tavistock and Okehampton), when considered as a diversionary route, is that it would be of no benefit to Newton Abbot, Torbay and much of South Devon. However, this line must be reopened in due course to serve Mid and West Devon and North Cornwall, but its reinstatement is not the immediate answer to providing a resilient Great Western main line.
It may at first seem nonsensical to suggest the reopening of the Teign Valley Line which was a minor route serving only a small population, rather than opening a former main line through connecting expanding towns long ago cut off from the rail network. But when it is seen that a combination of little inland lines form almost a mirror image of the main line between Exeter and Newton Abbot, attention must be given to its potential.
The Teign Valley route was kept open continually during the war years 1941 – 1945. As the vital supply route along the coast was an obvious target for the enemy, Government included Teign Valley in its 'insurance works' on diversionary routes. Then in 1943, four loops were installed, enabling ten-coach trains to pass, and these greatly improved the line's value during an emergency. This entire facility was thrown away 15 years later.
Some commentators imagine a rebuilt Teign Valley Railway would lie idle when not needed for diversionary working. The cost of reconstruction could not of course be justified for this limited purpose alone. Rather, the Teign Valley could be the first of the Westcountry lines to re-open and would connect its community to the centre of the county town and a sub regional centre, as well as opening up a new countryside for visitors.
The Teign Valley would not be high on a list of lines ripe for reopening in the ordinary course of events, but the clincher in this case is its ability to back up the main rail artery at its most vulnerable stretch. In engineering terms, despite 50 years of attrition, the Teign Valley line is still about 80% complete. Part is now a scrap metal yard on the Marsh Barton trading estate. The branch would still be intact as far as Alphington, with potential for the development of more freight traffic from the estate, had not the county and city councils pressed on with a road scheme. Huge incursions were made at each end of the branch in the late 1960s and early 1970s by the construction of the A30 and A38 dual carriageways but these should not prevent the railway's reinstatement. Both tunnels and four out of the six river crossings are still intact.
The four mile rump of the Moretonhampstead branch from Newton Abbot was revived for freight traffic in 2011.
The costliest works would be to rebuild the A30 junction at Alphington, relining the Perridge Tunnel and building a new alignment alongside the A38 between Chudleigh and Chudleigh Knighton, for which the path is clear. The road incursions were made at a time when it was thought that the railway system would wither away. Much road construction was cheaper because it did not have to accommodate railway lines, or because it followed the courses of closed lines, in a period of massive public transport decline. Nowadays that approach is commonly accepted as short-sighted folly.
In all cases where railway reinstatement involves crossing or following new roads, in Colin's opinion the cost should be borne by the Highways Agency or other road authority as a form of compensation. Many sections of the Teign Valley route could be reconstructed in weeks using the modern machinery available to today's engineers.
No matter how much work is done to strengthen the Dawlish sea wall it can never be guaranteed to withstand the forces of nature which are predicted to become more tempestuous. The challenge is to make the existing line as resilient as possible while having a matching inland route. The Teign Valley could be supported on the same economic basis as the existing comparable line from Par to Newquay. As the first of the Westcountry's lines to reopen, the Teign Valley line would show what is possible and would stimulate demand for wider railway reconstruction, which is imperative for the future of modern Britain.
In the final Discussion session after tea Tom Greeves began by asking for views on the reopening of the Princetown Railway, but there was little enthusiasm expressed. John Ball mentioned that he has often visited Ffestiniog Railway which is a narrow gauge heritage style railway and works very efficiently. Gerald Quinn said that Princetown is the highest town in England and is an excellent focal point for people exploring the central part of the moor. A stretch of line should be revived, and should have an added attraction such as a Heritage Centre for railways.
Tom Foster said that he feels that key towns in Devon such as Tavistock, Okehampton and Princetown would benefit as local centres by having public transport rail connections.
Alan Finch works for Sustrans. He described the comprehensive network of cycleways that link Ilfracombe to Plymouth as well as the key part our local cycleways play in the bigger picture such as Eurovelo 1 which links Cape Trafalgar in Portugal to the North Cape in Northern Norway. Hundreds of cyclists use these routes every day and Alan felt that if a double-track railway was put on the cycleway this would take away huge enjoyment for many people. He also made the point that the theoretical train times given by Peninsula Rail on their leaflet do not include any stops. This undermines the argument for having the railway in the first place. One also needs to bear in mind delays or time involved for people having to get themselves to and from the station itself.
Michael Ireland of Destination Okehampton represents a consortium of councils who lobby for improved network connections. He said that he is trying to stop people getting disenfranchised from public transport. There is both a political and an economic case for this, and wider implications of health, tourism etc. They are not against the case put forward by Alan Finch and Sustrans, but are against total exclusivity.
Andy Roden, a railway journalist for 14 years, was very proud to be the person instrumental in saving the London to Penzance sleeper train back in 2005. He said that we have to have a rational evidence-based and fact-based case. It is also important for everyone to be united with one message and speak with one voice. The Okehampton to Tavistock line via Bere Alston is key, especially since the upset with the Dawlish line earlier in the year. We need to be contacting MPs, writing letters etc and making a noise about this. The Granite Way cycleway should stay, but it shouldn't stand in the way of the railway which is potentially of greater benefit to society. The two could co-exist.
Judy Ehlen wished to be clear about the implications of global warming. We need to look at things in the long term and it is only a matter of time before the defences at Dawlish go again. She believes what we should do is certainly concentrate on the Okehampton to Tavistock line but we should also look at developing the Newton Abbot to Exminster line which would then go underneath Haldon Hill.
Vernon Coon said that he liked what Richard said about the rebuilding of the line between Okehampton and Bere Alston via Tavistock, but he also felt careful consideration should be given to a package of other measures such as improvements to the line from Exeter to Salisbury.
Jan Mallik observed that there are no railways in Holsworthy and at present they are building 91 executive homes locally which will generate about 200 cars on what are very narrow existing roads. A double track railway network would be very beneficial to the area.
Bob Hodgson said that he has used the Granite Way a lot over the years and he personally wouldn't have a problem with cycling alongside fast trains.
Tom Greeves said the Dartmoor Society would be pleased to make enquiries about the Train Shed and the Brunel-period broad gauge Goods Shed at Ashburton, and to write to DNPA about the need for an audit of railway features within Dartmoor National Park. He added that the Society has a Research Fund and would certainly be interested in putting some money forward to funding research if topics were identified.
He thanked everyone who had made this day possible including the caterers and all the speakers. He also wanted to thank Elisabeth Greeves who had been instrumental in organising the additional catering of morning coffee and tea, as well as Tanya and Barry Welch and all those who manned stalls etc. Finally he warmly thanked everyone who had attended and made it such a successful occasion.