2019 Debate: 'The Secret Life of Dartmoor Birds: Science for Survival?'
Saturday 12th October 2019, Ashburton Arts Centre

The main focus of this very successful day was to give a platform to scientists and enthusiasts who are currently studying birds and their habitats on Dartmoor, and to find out if science really is helping us to understand and protect our vulnerable species. An audience of 150 people attended to find out more about this work and to question the speakers on the current picture and how birds might live and breed on Dartmoor in the future.
Ally Kohler, Director on Conservation and Communities at the Dartmoor National Park Authority, chaired the event. Her responses, and her input during the question sessions, showed the depth of her understanding and also her thoughts for the future on this very complex issue.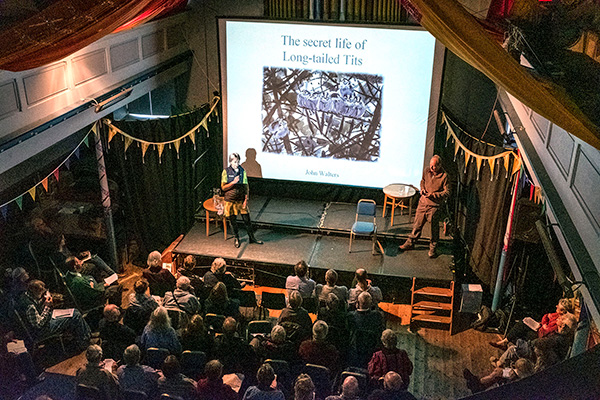 Eight local bird enthusiasts gave presentations and what follows is a summary of their talks.
The full papers appeared in the Devon Birds Journal, April 2020 which can be purchased from the Devon Birds shop for £3.50.
Fiona Freshney, Dartmoor Moorland Bird Project Advisor, a partnership hosted by the RSPB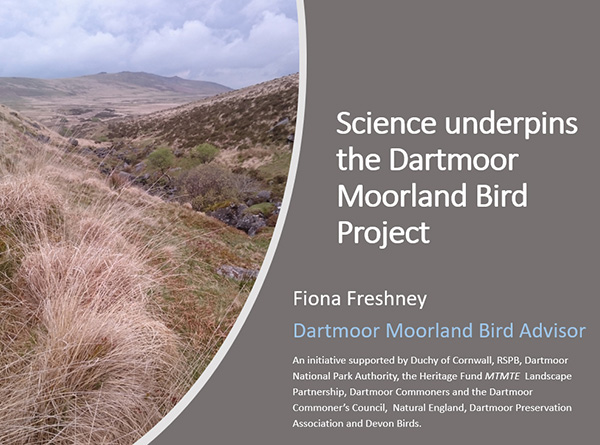 Fiona said that a major strength of this project has been its collaborative approach. Working in an integrated way with existing agencies and initiatives, as well as many local ornithological enthusiasts, has resulted in a project supported by pooled knowledge.
'Bird Information Sheets' have been created and are used whilst working with interested farmers and land managers, to discuss the main areas of concern and to identify breeding birds present on the land and which habitats they rely on.
In a really wide-ranging talk she explained the priorities that are part of any preservation effort. The ring ouzel, a migratory thrush of upland habits, has been in decline in recent years on Dartmoor. She pointed to predation as one of the most common causes of nest failure, but said that it is often where there is significant human disturbance that failure is highest. Ring ouzels require a mature heathland mosaic, mixed with areas of shorter grazed acid grassland for foraging. The amount of forage available for newly fledged birds (e.g. berries) on the breeding ground in late summer, on migration and in wintering grounds may all be potentially critical to survival.
Mark Lawrence, British Trust for Ornithology bird ringer, nest finder and recorder
Mark's introduction to birds and his lifelong fascination with their habits has led to his survey work on Dartmoor, in Wales and Scotland for the British Trust for Ornithology and others. This has earned him the well-deserved reputation as 'The Nest Finder of Dartmoor' (BBC The Living World 2010).
In words and photographs Mark took us through some of his many encounters with birds and their nests, from seemingly inaccessible raven's nests on trees and rocky outcrops, to the ground-nesting birds of Dartmoor.
Charles Tyler, Professor in Environmental Biology at the University of Exeter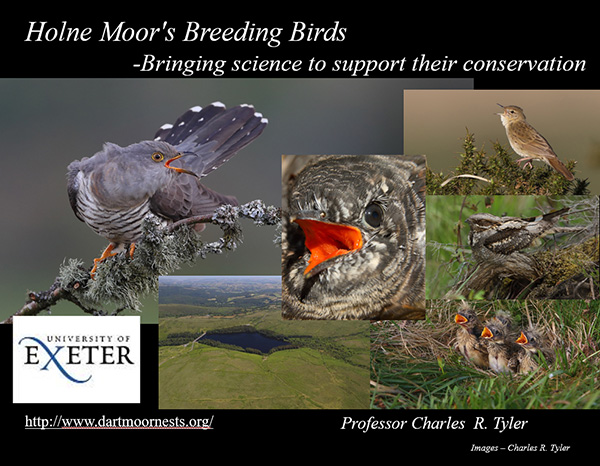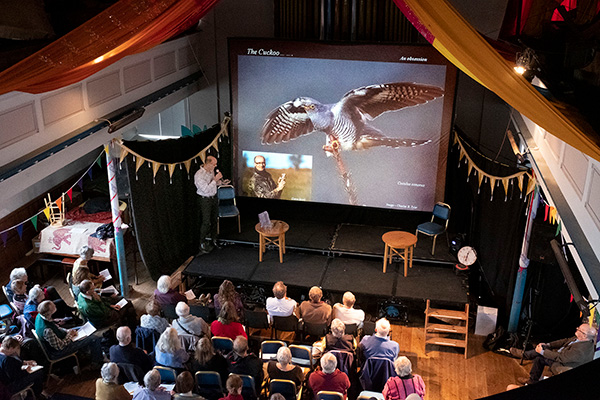 With 35 years of research experience in environmental biology, Charles Tyler talked about the findings from a 10-year nest recording study on Holne Moor. Nest locations have been mapped and breeding times and behaviour analysed, in relation to vegetation type and land management activities to understand where there were potential conflicts.
Natural England and the DNPA were actively engaged with the study, as were moorland graziers, with the aim of understanding the habits of moorland birds and advising land managers, to ensure breeding success and habitat preservation.
Malcolm Burgess, Senior Conservation Scientist at the RSPB Centre for Conservation Science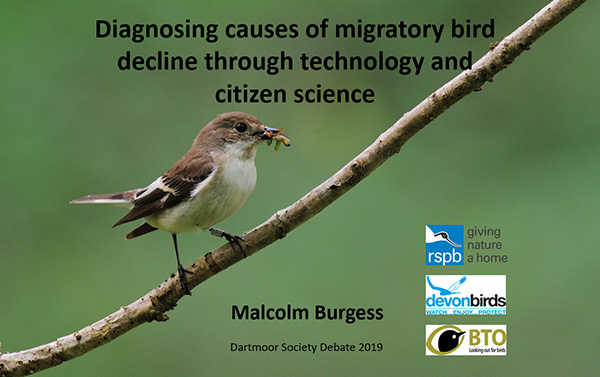 Malcolm Burgess gave a fascinating account of his research that centres on diagnosing the causes of decline in migratory birds. He is especially interested in trophic mismatch (the need to time breeding to coincide with the availability of caterpillars), timing of migration, migration routes and linking migration behaviour to individual fitness and population trends. For this work he uses the latest tracking technology, currently focusing on species such as the pied flycatcher, spotted flycatcher, wood warbler and whinchat. He set up PiedFly.net, a citizen science project monitoring hole-nesting woodland birds across south-west England. He also spoke of how he developed his interest in birds at Yarner Wood, and of the need for action, not just scientific study to try to reverse the decline in local and migratory bird populations.
John Walters, Field naturalist, wildlife artist and author and broadcaster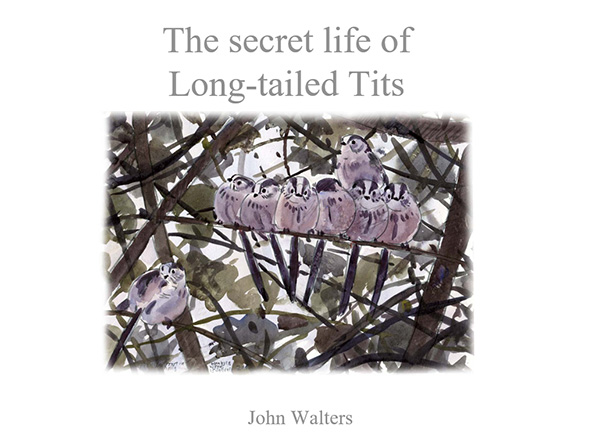 John Walters has made an intensive study of a flock of long-tailed tits in Hembury Woods over the past nine years; following the flocks and recording behaviour at the roost sites in winter and during nest-building from early spring. His talk and the photographs of the roosting birds charmed the audience as they heard of his sojourns in the freezing winter woods to observe the unique behaviour of these birds.
Naomi Oakley, Dartmoor farmer, environmentalist and Natural England Adviser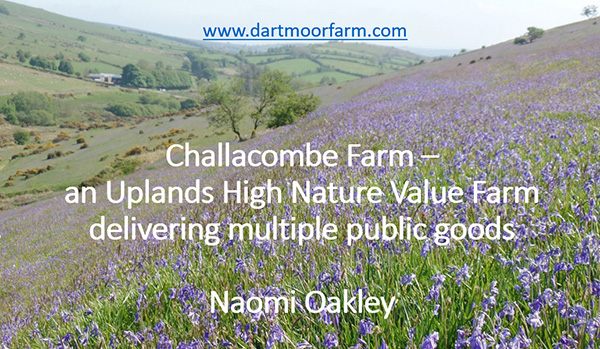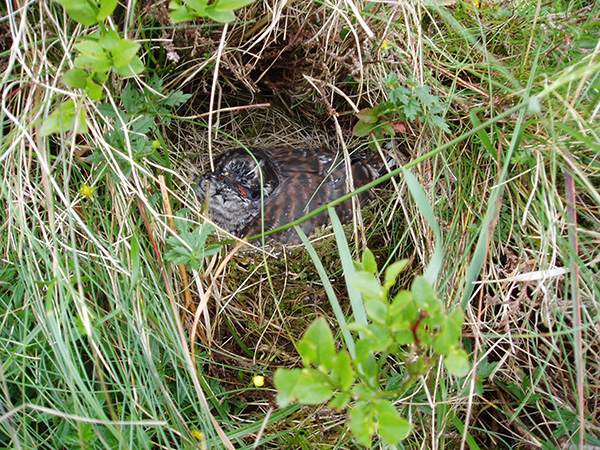 Cuckoo chick in the nest – Naomi Oakley
For over 25 years Naomi and husband Mark have farmed at Challacombe, a Duchy-owned farm near Widecombe-in-the-Moor. Thanks to funding through agri-environment schemes, such as Higher Level Stewardship, they have been able to prioritise wildlife conservation. Protection of archaeology and an emphasis on public enjoyment of the landscape goes hand-in-hand with agricultural production. Naomi gave us a fascinating insight into how they do this in practice. Challacombe is now one of the best places on Dartmoor to see birds and this is attested by the number of walkers with binoculars that frequent the footpaths, and the diverse habitats that draw the many species of birds found here.
Peter Reay, Devon local organiser for the Wetland Bird Survey, organiser of the Dartmoor Bird Report and former editor of the Devon Bird Report
Peter Reay combines his desk jobs relating to bird surveys with his own fieldwork. This talk focused on water birds and his intensive study of how goosanders use the Avon Dam Reservoir. More broadly, through frequent visits to this and other bodies of standing water on Dartmoor, Peter has been able to produce comparative data on water birds for the main Dartmoor reservoir sites for the period 2009–18 showing numbers of wildfowl, gulls, waders and other water birds that regularly use these sites.
The Dartmoor Bird Report is available on the Devon Birds website.
Sara Zonneveld, Ecologist at the University of Exeter
In a talk entitled 'Population Futures in Dartmoor National Park' Sara explained how population growth and new housing developments will inevitably increase visitor numbers on Dartmoor. Trying to balance recreational experiences with environmental protection will be an ever-increasing challenge and there is a need to understand the implications for wildlife and to suggest measures that might mitigate potential damage. Sara and the team she works with have been trying to quantify this. In her talk she explained in detail the scale of the projected increased use of Dartmoor for recreation and suggested strategies to limit any damage to habitats. Read the full report.
Thanks go to Andy Williamson and his team for their hospitality and for an inspiring and historic venue, the former Methodist Chapel, now Ashburton Arts Centre.
Caya Edwards
Co-organiser of this event and member of The Dartmoor Society.