Research Lecture 2018: 'Stakeholder Attitudes to the Narratives of the Dartmoor Commons: Tradition and the Search for Consensus in a Time of Change' by Adrian Colston
9th November 2018, Dolphin Hotel, Bovey Tracey
On the wild and wet evening of Friday 9th November 2018, 64 people attended the society's Research Lecture in the Dolphin Hotel, Bovey Tracey.
Adrian began by stating that, as a researcher and conservation practitioner, he was interested in why people disagree about how Dartmoor's Commons should be grazed and managed, and was striving to understand these attitudes.
His research is firmly grounded in the social sciences, but it is interdisciplinary, bringing together work on upland ecology, atmospheric pollution, climate change, archaeology, common-pool resources, history, rural policy, hill-farm economics, ecosystem services, cognitive science and policy narratives. Such an approach is required as it allows a holistic view of the complex challenges facing the Commons of Dartmoor. 
Historically, many of those involved have tended to view the issues from their own single perspective and are therefore at risk of failing to see the wider picture. These single perspectives are the different narratives.
Narratives are stories with beginnings, middles and ends. They are often journeys and contain characters – villains, victims and heroes – and can also contain partial or incorrect information. Adrian's methodology has involved more than 50 semi-structured interviews and the use of the Narrative Policy Framework.
Professor Bill Adams of Cambridge University has said, 'conservationists see the conservation of living diversity as a moral necessity, something that is self-evidently right and just has to be done. In the language of conservation biology, conservation is a 'mission'. Anything that detracts from that mission, or contextualises it as just one among other competing ideas or interests, is therefore inherently suspicious.' Maybe these views aren't unique to conservationists – perhaps some of the other stakeholders hold similar prejudices.
From 1947 to the mid-1980s were the golden years for hill-farming on Dartmoor, with 250,000 sheep and over 50,000 cattle. Hill-farmers were encouraged by UK government policy such as the 1947 Agriculture Act, and European Union policy such as headage payments, to intensify production and increase stock numbers.
From the mid-1980s, the overgrazing narrative appeared, claiming that the Commons were not in 'favourable condition' because they had been historically over-grazed and swaled (burnt) unsustainably. But the reduced grazing levels seen today are still not low enough to see habitats such as heather moorland recover as was intended.
The Commons of Dartmoor cover nearly 16,000 hectares which represents 37.6% of the area of Dartmoor National Park. Ministry of Agriculture/Defra figures for sheep on Dartmoor (not just the Commons) are as follows:
| | | | |
| --- | --- | --- | --- |
| 1939 | 1949 | 1972 | 2000 |
| 108,000    | 98,000    | 151,000    | 240,000 |
On the Commons were said to be:
| | | |
| --- | --- | --- |
|   | 1952    | 1994    |
| Cattle    | 2,000    | 20,000    |
| Sheep    | 44,000    | 132,000    |

This equates to a 4.6-fold increase in grazing pressure between 1952 and 1994, rising to 1.11 Livestock Units (LSUs) per hectare. Science suggests that 0.3 Livestock Units per ha, or less, are considered to be required to maintain good vegetation quality for nature conservation objectives on heather moorland. On blanket bog the figure is 0.37 sheep per ha (0.055 LSU). A cow = 1 LSU; a sheep = 0.15 LSU. But Dartmoor is 500-1000 km south of where the research was conducted, is at a lower altitude and is a 'wet Western' moor not a 'dry Eastern' moor.
In parallel with 'overgrazing' is the 'over-burning' issue re. swaling (i.e. seasonal burning of the sward). Swaling is carried out to remove old vegetation and encourage new nutritious growth, and allows larger numbers of stock to be pastured. It has been carried out on Dartmoor since Neolithic times but can cause problems, as can lack of swaling. Not surprisingly, there is a narrative, promoted especially by George Monbiot, that there are too many sheep and too much swaling – Dartmoor is 'sheepwrecked', overgrazed and overburnt. The aim of the agri-environment schemes (Countryside Stewardship, ESAs, Higher Level Stewardship, etc) has been to use financial incentives to reduce grazing pressure and make swaling more sustainable.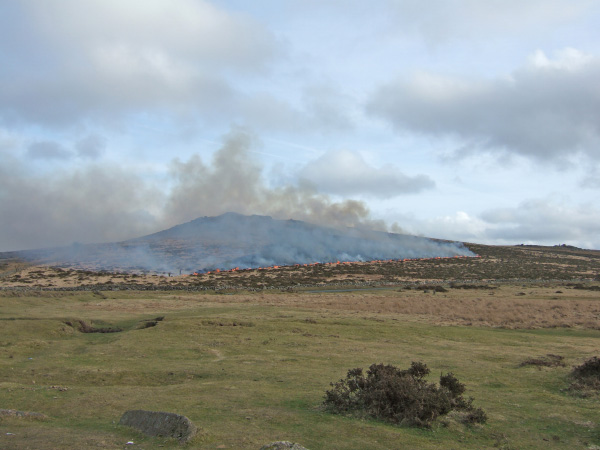 Swaling on Rippon Tor – Tom Greeves
Trying to make sense of the sometimes confusing data is tricky. According to one study sheep numbers on Dartmoor (as a whole and not just the Commons) dropped from 250,000 in 1990 to 239,930 in 2000. Cattle numbers declined from 62,000 in 1985 to 52,899 in 2000 (Turner, M., Barr D., Fogerty, M., Hart, K. & Winter, M. (2002) The State of Farming on Dartmoor 2002, Final Report to inform the 'moor futures' initiative. Centre for Rural Research, University of Exeter). This is a 10.8% decrease in grazing pressure in LSU/ha. But another study indicated that sheep numbers on Dartmoor dropped from 143,651 in 2000 to 133,759 in 2010, while cattle numbers rose from 30,982 in 2000 to 35,405 in 2010, which would correspond to a 10% increase in grazing pressure in LSU/ha (Silcock, P., Brunyee, J. & Pring, J. (2012) Changing livestock numbers in the UK Less Favoured Areas – an analysis of biodiversity implications, CC-P-545, Cumulus Consultants Ltd). However, these data are not directly comparable as Silcock et al only used data from commercial holdings within the Less Favoured Area (LFA) in the Dartmoor Natural Character Area, while Turner et al used data for LFA and non-LFA land in the National Park.
There is no specific data available for the Commons yet. The most recent Defra statistics are largely compatible with Turner et al (2002) with 44,058 cattle and 190,391 sheep in 2013, indicating a continuing decline in numbers. 'In 2007 a survey of hill farmers on Dartmoor found that over 40% of farmers had reduced the number of their suckler cows and breeding ewes. Natural England have estimated that within all the agri-environment schemes (ESA and HLS) there is about a 30% shortfall in the total LSU (Livestock Units) permitted on the moor in summer – the peak grazing season' (DNPA evidence to Environment, Food and Rural Affairs Select Committee (EFRA 2011) – Farming in the Uplands. Third Report of Session 2010-11, Volume 2, Additional written evidence, House of Commons).
Land Use Consultants stated that on Dartmoor since 2000 livestock numbers have fallen by a quarter. The sheep flock had declined by 31% and the cattle herd by 17% and that now cattle account for 55% of the livestock grazing units. The stocking rates were especially reduced in the winter – Deane, R. (2011) Landscapes without livestock (Final Project Report to EBLEX).
Why, when the sheep and cattle numbers on the moor had been reduced, was the heather continuing to disappear while purple moor grass (Molinia) took over and dominated the Commons with its eerie and stifling 'raffia'? In 1989/90 less than 1% of Dartmoor was dominated by Molinia– Wolton, R.J., Edge S., Keddle, R.M., Kendall S. & Archer, R. (1994) Vegetation and Heather Condition Maps for the Commons of Dartmoor. A practical aid to their sensitive management (English Nature Report – unpublished). Now it is more than 20%.
The restoration management prescriptions from English Nature and Natural England focused on reducing the grazing pressure and reducing burning. While such prescriptions aided the blanket bog, they were very much less successful at reducing the dominance of purple moor grass on the mires, i.e. the wet heaths and blanket bog. Natural England, in their 2013 Evidence Review on the impact of moorland grazing and stocking rates, concluded, 'There remains concern and disagreement about the effects of grazing on the upland landscape and biodiversity, in particular about stocking rates, different livestock types and the timing and spatial pattern of grazing regimes' – (Impact of moorland grazing and stocking rates, Natural England Evidence Review NEER006, 2013) – a rather damning indictment.
Dartmoor hill-farmers have their own hill-farming narrative. Over thousands of years the hill-farmers of Dartmoor have created the landscape we know today. They are farmers first and foremost who want to primarily produce quality lambs and cattle. They are the guardians of the moor but are not park rangers. Today their traditions are threatened by increasing government intervention, unsustainable farm incomes, Brexit, their age, and the difficulty of encouraging new entrants to hill-farming. Agri-environmental schemes were introduced to incentivise hill-farmers to reduce stocking levels considerably, but it didn't work! Heather continued to disappear and unpalatable grasses such as purple moor grass spread across the Commons, blanketing the historic environment.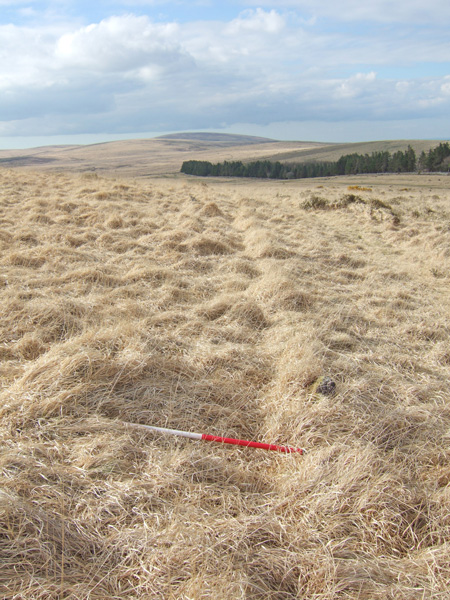 Shovel Down stone row obscured by Molinia – Tom Greeves
The archaeological narrative calls for increased grazing – the moors should be grazed more heavily to allow the historic environment to be visible again. Dartmoor contains one of the richest archaeological landscapes in Europe, some of which dates back to the Neolithic. Recent policies which have reduced grazing levels to enhance wildlife have been a failure, allowing scrub and coarse grasses to dominate, thus hiding and damaging the important historic landscape. Grazing levels need to increase dramatically.
The atmospheric pollution/Anthropocene narrative asserts that the 'unfavourable condition' of the Commons was initially caused by overgrazing, but that today their recovery is impeded by high levels of atmospheric pollution and climate change, which are now the main drivers of habitat change. The habitats on the Commons are undergoing a reconfiguration and cannot be restored to their former condition. 
Many parts of the UK have been receiving high levels of nitrogen deposition for decades. English Nature showed that, between 1989–92, 93% of Dartmoor exceeded nitrogen deposition critical loads (Brown, M. & Farmer, A., 1996 Excess sulphur and nitrogen deposition in England's Natural Areas, English Nature Research Reports No. 201). Nitrogen deposition leads to increased concentrations of nitrogen in the growing shoots of heather which makes them more susceptible to increased grazing pressure by sheep which can lead to the deterioration of heather moorland as it is preferentially grazed.
A more complex relationship between nitrogen, Molinia and heather has been described in the Netherlands where nitrogen deposition increases the productivity of the dwarf shrubs such as heather and that if the dwarf shrub canopy remains closed then they remain the stronger competitor against grasses such as Molinia. However, if the dwarf shrub canopy is opened up by disturbance then the grasses become dominant and the dwarf shrubs cannot recolonize. Disturbance to the dwarf shrub canopy can occur either by winter frost injury, drought or heather beetle (Lochmaea suturalis) attack. The likelihood of these beetle attacks is increased by enhanced nitrogen deposition (Bobbink R., et al, 2010 'Global assessment of nitrogen deposition effects on terrestrial plant diversity: a synthesis'. Ecological Applications 20(1): 30–59). 
Upland areas (amongst others) also receive high levels of O3 (Ozone) between March and July. O3 concentrations on Dartmoor are amongst the highest in the country.
Atmospheric carbon dioxide levels have risen from 320 ppm in 1960 to just over 400 ppm by 2015 (Carbon dioxide Information Analysis Centre (2015) United States Department for Energy http://cdiac.ornl.gov/); Franzaring, J., Holz, I, & Fangmeier, A. (2008) 'Different responses of Molinia caeruleaplants from three origins to CO2 enrichment and nutrient supply', Acta Oecologica 33, 176–187).
The rewilding narrativestates that upland farming is an entirely uneconomic activity despite the huge subsidies it receives. The agricultural outputs are tiny in a national context but are delivered at a huge environmental cost. The Commons of Dartmoor have been 'sheep-wrecked' and as a result the high moor should be rewilded and extinct species should be reintroduced which would deliver numerous environmental and other public benefits. Ben Goldsmith was appointed a non-executive board member of Defra in March 2018. On social media he made some remarkable statements about Dartmoor: 'a bleak and lifeless wasteland; utterly overgrazed, denuded, treeless, flowerless, birdless wasteland. Sheep and crows and nothing else. People who say this place is 'natural' and 'wild' are simply brainwashed'. He advocates 'ecological restoration' and 'big scale nature recovery' with food production being an 'offshoot'.
Is there a middle ground of 'soft rewilding'? Wildlife, archaeology and hill-farming? The habitats and species on the Commons are less diverse and abundant than they once were. The reductions in grazing levels and the introduction of more sustainable burning regimes are welcome, but given the level of public subsidy it should be possible to allow trees and shrubs to regenerate in some places which would benefit wildlife and mitigate against downstream flooding, without detrimentally impacting on hill-farming.
Yet others want to see the moorland re-wetted to conserve the carbon in the peat and stabilise drinking water supplies – the restoring the mires narrative. The water suppliers and carbon conservers would like to see more re-wetting. Historically the blanket bogs of Dartmoor were wetter, but as a result of historic activities such as peat cutting they have dried out. Re-wetting is required to enhance water quality and human drinking water supplies, as well as conserving the carbon stores.
But a contrary argument, as put forward by The Dartmoor Society, claims that the mires should not be re-wetted and that activity should cease immediately. The engineering works required to re-wet the mires introduce machinery into areas of the moor that have never been visited by excavators. It disturbs the natural environment, potentially damages the historic environment, and devalues the land for sheep and cattle grazing. There is no evidence that re-wetting the mires delivers any environmental benefits, nor is the need for it proven.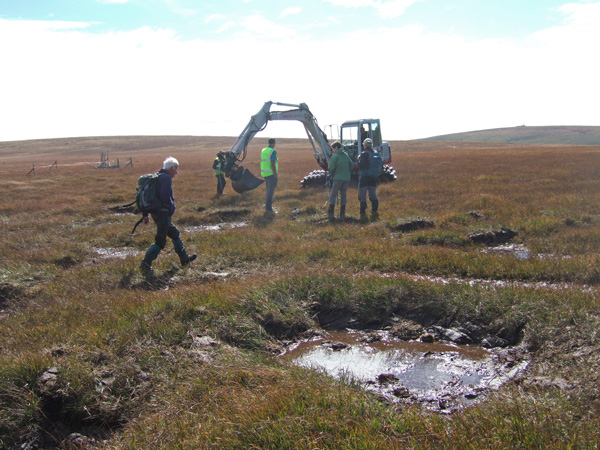 Excavator working on the mires of Flat Tor Pan – Tom Greeves
Elements of the hill-farming community would like to see less access and recreational activity and more farming. Dartmoor has become a 'playground' for increasing numbers of urban dwellers, which is now impacting detrimentally on hill-farmers. It is threatening their livelihoods and their culture. Hill-farming must once again become the priority activity on the Commons.
The compacted soil narrative is a recent addition. Parts of the Commons contain compacted soil which during periods of high rainfall cause flooding downhill. One view is that this compaction is caused through overstocking – however an alternative view is that the atmospheric deposition of nitrogen has acidified the soil and depleted the soil fauna which means that the soil can no longer repair itself as a result of micro-organism activity. If you choose the wrong narrative you end up applying the wrong 'solutions'.
The Dartmoor Farming Futures narrative is a dominant policy initiative held by the Dartmoor Moorland Vision Group which consists of the Dartmoor Commoners Council, Natural England, Historic England, Defence Estates, the Rural Development Service and the Dartmoor National Park Authority. Their position is that they see the moorland areas of the National Park as a grazed open landscape that delivers multiple public benefits, including public access, biodiversity, conservation of key archaeological features, water and carbon management and high-quality food production, along with the rekindling of the hill-farmers' local knowledge.
What will happen to hill-farming after Brexit? Will the Dartmoor Farming Futures narrative prevail or stumble?
'And you get a titter around the meeting when you say, 'Look, I'm a farmer, that's not going to work' – and they don't know how to behave toward us. There is still a feeling that we are to blame for everything and until the actual sea change of how the government people look at a farmer changes … we are highly educated people nowadays, we aren't chewing straw with smocks on, we are highly educated, we have to be, and I think we are just ignored' (Dartmoor hill-farmer, May 2018).
'… they never gave us any credence that we had any knowledge whatsoever. We felt we were treated as second class citizens, basically unintelligent and had to be shown what we had to do at every whip and turn' (Dartmoor hill-farmer, May 2018).
Adrian illustrated how in the East Dart valley there is 'wall to wall' Molinia and nothing to eat it – the tragedy of the commons. It is particularly striking around the Grey Wethers stone circles. On the beating the bounds of Gidleigh in August 2018, the participants were passing through gorse and Molinia. See A Report on Gidleigh Common 18 July 2018 (The Dartmoor Society, 2018). On a recent walk to Hangingstone and Cranmere, which Adrian would not recommend to anyone now, 95% of the heather was brown and seemingly dead as a result of heather beetle attack.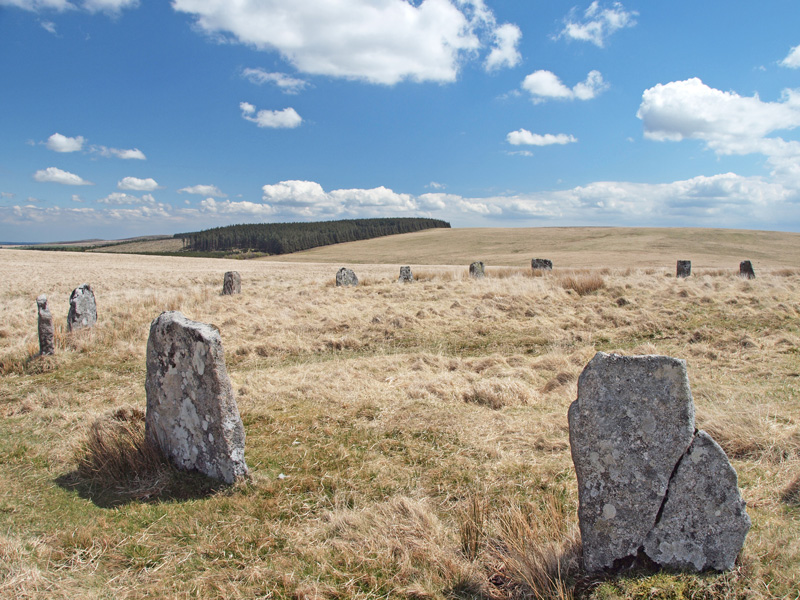 Molinia surrounding Grey Wethers stone circles – Steve Mason
Adrian's research will tease out the attitudes held by the various stakeholders about the narratives they support and those they oppose. For example, what do the hill-farmers really think about rewilding, why do the conservationists think that their detailed grazing prescriptions failed to bring back the heather and other wildlife and will hill-farmers accept 'public money for public goods'? Can a new narrative be created which brings together wildlife, archaeology, public access and hill-farming?
Adrian's talk was richly illustrated with landscape images as well as informative graphs and tables. Questions and comments were as follows:
Caya Edwards commented that Adrian said that he thought the Hay Tor and Bag Tor areas were in a particularly good condition, and she asked why this was.
Adrian said that that area is looked after by the Haytor and Bagtor commoners as part of the Farming Futures Scheme. They have been swaling and are also monitoring results.
Tom Greeves invited Maurice Retallick, who is Chairman of the Haytor and Bagtor Commoners, to comment further.
Maurice Retallick said that Farming Futures had run for the last five years. They are judged on outcomes and what they produce such as water, archaeology, public goods, environment etc. They carry out some prescriptive work, such as spraying the bracken and clearing around the archaeology and have even found some new archaeology. They manage by swaling and ensure that they don't have large clumps of vegetation which would encourage fires to spread. They are in regular contact with appropriate organisations such as the Butterfly Conservation Trust. They try to create a mosaic of vegetation and habitat.
There is also emphasis on people management as they get a huge number of visitors. For example, a pressure pad by the Information Centre at the bottom of the hill, recorded 40,000 people in one year, and there are seven car parks in the vicinity.
Philip French commented that heather beetle will attack more mature heather, and then Molinia gets a foothold. Natural England fenced off an area of his local common some years ago, but there is a lack of heather both inside and outside the fenced area. He is not aware that Natural England have returned to the site recently to examine the results of their experiment.
Sue Goodfellow said that in her experience the heather beetle attacks in waves. In the past there have been outbreaks of heather beetle every ten years but now it is getting more frequent. In 1984 she monitored some damage done by heather beetle on Holne Moor. Combined with this, heather has disappeared totally where it is in competition with bracken and Molinia. She felt that specific solutions must be looked for at a local level, particular to each Common. 
Tony Hill said that he had been told by a retired Chief Fire Officer that he was stunned and amazed by the large volume of combustible material such as gorse and Molinia that was a potential fire hazard on the Forest of Dartmoor.
Gail Fursdon noted that Adrian had not mentioned problems created by the increase of bracken on the Moor. 
Adrian said that he could have created a whole new narrative on bracken alone. On the Upper Plym the National Trust made progress by spraying specific chemicals on the bracken using helicopters. However, there are issues with chemical spraying because the chemicals can cause harm to the wildlife and the ecology in general.
Phil Cleeve commented that commoners had been trying to eradicate bracken on Holne Moor. Fifteen years ago they went into an ESA bracken crushing scheme and DNPA was very pleased with their efforts. In more recent years things with Natural England have gone a bit awry because, under Higher Level Stewardship, bracken crushing is required to be done in August when, as we all know, bracken is dying off.
Adrian concluded that he wished to sum up the evening on a positive note in that he believes the most recent mindset and general direction of travel is to give power and authority back to the hill farmers, with a redesign of the prescriptions to reflect that.
Tom Greeves said that there is a review of national parks at present, led by Julian Glover. One of the questions relates to designations. The Dartmoor Society position is that we feel that SSSIs that were created in 1952 are no longer fit for purpose for moorland Dartmoor, as they are for the natural environment alone. In 1952 there was little awareness of the cultural significance of moorland Dartmoor, and we need a new designation that puts nature and culture in equal balance. This should change attitudes to management.
Tom then thanked Adrian most warmly for his splendid and informative presentation.