The 4th Dartmoor Society Debate
Is a National Park Good for Dartmoor? – A Debate on the Past 50 Years and the Future
Buckfast Abbey, Saturday 29th September 2001
Featured Photo: Chairman and Speakers at the Society's Debate on the past and future of Dartmoor National Park. Left to right: Justin Leigh, Anton Coaker, Dr Tom Greeves, Drennan Watson OBE and Dr Nick Atkinson. (photo © Mike Hedges)
CONTENTS
Introduction
Things can only get Better by Dr Nick Atkinson
' 'Twas Purty To Hear The Jumpers Going'- Dartmoor National Park: A Culture Misplaced by Dr Tom Greeves
Morning Session – Discussion
A View from Scotland by Drennan Watson OBE
The Future of Hill Farming by Anton Coaker
Afternoon Session – Discussion
Acknowledgements
INTRODUCTION
This debate was organised by The Dartmoor Society and held in the fine setting of St Cuthbert's Conference Centre, Buckfast Abbey, Buckfastleigh, Devon, UK, on Saturday 29th September 2001.
A number of factors had initiated the debate, including:-
the Society's long-standing concern at the trend towards the 'urbanisation' of  Dartmoor National Park.
a growing awareness of a global debate about so-called wilderness areas and other protected zones, along with a realisation that this topic had never previously been discussed within a Dartmoor context.
the appropriateness of reviewing what had been achieved by the Dartmoor National Park in the 50 years since it was created.
After arrangements had been made for the debate, there was a calamitous outbreak of foot and mouth disease on parts of Dartmoor and its fringes in 2001. Later in that year, the Government announced a review of the national parks in England and Wales. These two events meant that the debate became yet more timely and topical.
The speakers were chosen with the aim of presenting as broad a spectrum of views as possible and to promote debate among delegates. The four speakers were:-
Dr Nick Atkinson, Chief Executive of the Dartmoor National Park Authority
Dr Tom Greeves, Chairman of The Dartmoor Society
Drennan Watson OBE, Landwise Scotland
Anton Coaker, Dartmoor hill farmer
The Chairman was Justin Leigh, of the BBC's 'Spotlight' South West.
MORNING SESSION
'THINGS CAN ONLY GET BETTER' 
by Dr Nick Atkinson, Chief Executive, Dartmoor National Park Authority
Trained in forestry, for which he obtained his doctorate from the University of Wales in 1972, Nick Atkinson has worked for Dartmoor National Park Authority since 1974, successively as Applied Ecologist, Head of Conservation Management, Head Ranger, Assistant National Park Officer (Visitor Services), Deputy National Park Officer and, since 1991, as National Park Officer (Chief Executive).
He is a member of the SW England Forestry Commission Regional Advisory Committee and a Governor of Bicton College of Agriculture.
At the outset of today's event I am pleased to welcome the Society's initiative in holding this debate. The year 2001 marks the fiftieth anniversary of the designation of Dartmoor as a National Park, and it is an appropriate time to reflect on the benefits and disbenefits, the achievements and losses, of fifty years of endeavour.  The National Park Authority has been happy to sponsor some of the cost of today's proceedings, and I am happy to participate in what I am sure will be constructive discussion about the best future for Dartmoor.
You will expect me to speak with conviction.  I love and respect Dartmoor as much as any person in this room, I have devoted the greater part of my career to the National Park, and I see first hand the commitment and achievement of the dedicated and knowledgeable Members and staff of the Park Authority.  I was born in Surrey, and I know my place, but I have many friends in the Dartmoor community, and am proud of friendly working relationships with each and every one of the 90+ organisations, agencies, parish councils and other bodies with whom the Authority works on a day-to-day basis.  I see the place for National Parks within the United Kingdom as part of the global population of Protected Areas, and regret with others that society as yet remains far distant from a level of respect for its total environment which would negate the need for their special protection and management.  We cannot express concerns about rain forest and coral reef, without respect and recognition for oak woodland and heather.  National Parks demonstrate much good quality and practice, and I do not accept that their status tends to encourage poor quality development outside their boundaries.
I experience daily the extremes of perception, passion, viewpoint and desire, within and between, the local, county and national communities that characterise life on Dartmoor.  Those who work for the Authority are not immune from frailty and error in a pressurised work place, but their actions and decisions are rarely those of any individual, and invariably based heavily on consultation, public involvement, grass roots prompting and an understanding of some sort of consensus.  It is a spirited arena, and one that has evolved over fifty years in ways which I shall describe.  We should build for a better future on the good things that exist, and our best judgement of things to come, and we should not be held to account for errors of the past judged by the standards and awareness of today.  My talk this morning will describe the evolution of National Parks within the UK, reflect upon the events, changes, achievements, and shortcomings of 50 years of National Park status on Dartmoor, and suggest some measures to build upon those 50 years, to which I hope the day's proceedings will considerably add.
Evolution of the National Park movement to 1951
As many of you will know the National Park movement first emerged in North America largely inspired by a visionary Scotsman, John Muir.  In 1872 the Yellowstone Park Act established Yellowstone as the first National Park, followed in 1890 by Congress approval for Yosemite National Park.  Earlier, in 1832, an artist, George Catlin, who specialised in paintings of American Indians, wrote in his journal in South Dakota near the Badlands 'What a beautiful and thrilling specimen for America to preserve and hold up to the view of her refined citizens and the world in future ages!  A National Park, containing man and beast, in all the wildness and freshness of their natural beauty'.
In the UK early significant interest in countryside came with the industrial revolution, as people moved to towns and cities.  Wordsworth in the Lake District, whilst lamenting the hordes arriving there by railway, famously expressed a view of the Lakes as a 'sort of national property in which every man has a right and interest, who has an eye to perceive and a heart to enjoy'.  In 1895 the National Trust for Places of Historic Interest and Natural Beauty was established, with the drive for National Parks gaining real momentum later between the wars as demands for free access to the hills and open country escalated.  The Addison Commission in 1929 conducted the first committee of enquiry, the Kinder Scout mass trespass of 1932 was a pivotal moment, and the voluntary Standing Committee for National Parks, now the Council for National Parks, was set up in 1935.  Local debate on Dartmoor must have commenced as the Western Morning News in 1929 carried a note:
       The probability of Dartmoor ever becoming a National Park is exceedingly remote' our London correspondent writes, after speaking to the Duchy of Cornwall offices.  The idea certainly did not come from them, says an official, and the suggestion shows a lack of knowledge about the moor.  Though it is beautiful in its ruggedness, 'there is positively no beauty in the centre of Dartmoor'.  He has never known tourists walk more than two miles from the main roads – and in any case it's unsuitable as the north west area is used for artillery practice.
  In 1937, however, the Dartmoor Preservation Association passed a formal resolution of support for National Park for Dartmoor.  In 1945 the Dower Report to Government recommended the establishment of National Parks and a new Government Agency – the National Parks Commission.  The Report defined a National Park as:
an extensive area of beautiful and relatively wild country in which for the nation's benefit and by appropriate national decision and action a) the characteristic landscape beauty is strictly preserved b) access and facilities for public open air enjoyment are amply provided c) wildlife and buildings and places of architectural and historic interest are suitably protected, while d) established farming use is effectively maintained.
Dower clearly saw that National Parks in England and Wales would have to be different to other National Parks in the world – with the land remaining privately owned, and their areas protected as working environments.  Whatever the local perception today in terms of success or failure, this model is of increasing interest around the globe in protected area debate and management.
In 1947 the Hobhouse Committee recommended the creation of twelve National Parks in England and Wales, proposing administrative systems, and giving contemporary descriptions of the characters, problems, and requirements of those areas, to which I shall return.  The 1949 National Parks and Access to the Countryside Act then enabled the designation of the Peak District as the first National Park in England and Wales closely followed by the Lake District, Snowdonia and, on 30 October 1951, Dartmoor.  The Government of the day hailed the Act saying that 'for the first time in English history an Act has been passed by parliament with the object of setting out in a workable form a comprehensive charter of rights for all lovers of the open air'.  Yet immediately critics expressed a shortfall in their measure of expectation, in particular that no national land fund had been established.
The current UK Government climate for National Parks
For those working within the National Parks today there is a general climate of encouragement emerging from Government that is heartening, but challenging in respect of a number of issues where balance has been difficult to achieve in the past.  Thus the pursuit of new National Parks for the New Forest and the South Downs in England, and in Scotland for Loch Lomond and the Trossachs, and the Cairngorms, is expected to extend the family of UK National Parks to fifteen.  Within the Government's spending plans the overall level of grant to National Parks was increased last year by 9.2% and there are indications of a similar increase this year.  National Parks are generally perceived as 'good things' with the expectation that the Park Authorities can assist in delivery on a variety of fronts of the Government's Rural White Paper agenda, e.g. access, and access for all, social inclusion, sustainable transportation, and integrated rural development.
The National Parks have welcomed all of this, and the Association of National Park Authorities will extend warm invitation to the new National Parks when designated.  Their experience to date has been freely offered, but with clear recognition that local circumstances demand local solutions, and that the present England and Wales model should not be heedlessly applied elsewhere.  Thus the incorporation of socio-economic well being as a third purpose in Scotland, and debate about representation and planning powers in both England and Scotland, are clear evolution and response to significant points of past debate and experience in the existing National Parks, related to the new locations.
If these are positive aspects, there remain problems for the present National Park Authorities in other directions of governance.  The Authorities are relatively small, but as free-standing bodies must respond in a raft of respects to statutory requirement, partnership, the Best Value processes for local authorities, and to expectations that they will avail themselves, and their communities, of a plethora of external funding sources and opportunities.  Energy is diverted from practical action on the ground, and there is danger to a degree that the primary purposes of National Parks will be understated, or under-addressed, whilst new directions are pursued, or whilst insatiable demands are fielded for statistics, performance indicators, and the shadowy productivity of e-governance.  Dartmoor can seem a distant reality in this bureaucratic sea, where our main desire is to focus essential capabilities and resources out on the ground and close to the people.
Dartmoor National Park Authority and Dartmoor since 1951
Archive record of local Dartmoor debate around 1951 seems strangely muted.  Some individual personal memories recollect the event without great ceremony or emotion.  By comparison with the processes and debates of today in Sussex and Hampshire, and in Scotland, we might find this remarkable.  The first meeting of the Dartmoor National Park Committee was held on 19 February 1952.  The Committee comprised twelve County Councillors, and six Members appointed by the National Parks Commission.  (Hobhouse had recommended not more than 25, in equal proportion with a Chairman appointed by the Commission.)  Alderman Hayter Hames CBE, JP, was elected Chairman and  could  muster  in  his  ranks  4 aldermen, 3 JPs, 2 CBEs, 2 DSOs, 2 Lt Colonels, 2 Majors, 1 Professor, 1 Lord, 1 Lady, 2 knights and … a certain Mrs Sayer.
  The 1949 Act defined the purposes of National Parks as:
      (i)   preserving and enhancing the natural beauty of the areas; and
     (ii)   promoting their enjoyment by the public.
Despite Dower's recognition of the living working landscape, there was no socio-economic or community reference, and by today's reckoning local representation at County Council level alone may have seemed distant to the Dartmoor communities.
The business of that first Committee meeting seems somewhat familiar and included discussion of:
         (i)   representation, attendance at meetings, speaking and openness;
        (ii)   delegation of Public Rights of Way and Highways matters;
       (iii)   water resources, statutory undertakings and their control through the planning system;
       (iv)   military services training requirements;
      (v)     telecommunications masts;
       (vi)   minerals working;
      (vii)   development control procedures with district councils;
     (viii)   three planning applications in Moretonhampstead.
The Committee and administrative arrangements for the National Park continued largely unchanged up until 1974 when local government reorganisation arising from the 1972 Local Government Act was put in place.  In that 23-year span there were a number of notable events.  There was great concern for the Dartmoor pony, the first official guide book was published in 1957, a Dartmoor Commoners' Association was formed in 1952, and the Avon Dam reservoir was completed.  A 'disfigurements' sub-committee spent a great deal of energy addressing advertisements, eyesores and litter.  The first Ten Tors expedition took place in 1960 commencing at Haytor.  1962 saw the railway line to Ashburton closed, and the Moretonhampstead line closed two years later with the National Park Committee declining to take an option to acquire the disused track.  A voluntary afforestation agreement was signed with the Forestry Commission, and lauded as a great step forward, although by today's reckoning, and bear in mind the long timescale of plantation forestry, it would be viewed quite negatively.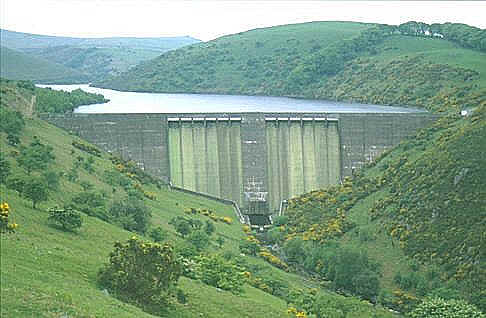 Meldon Reservoir and dam, May 1999 (photo: © Elisabeth Stanbrook)  
Meldon Reservoir was opened in 1972 after lengthy opposition, although two years previously the emotive proposals at Swincombe had finally been rejected by parliament.
The 1972 Act directed County Councils to form distinctly separate National Park
Committees ('Authorities') to which planning and countryside functions were to be delegated.  The position of 'National Park Officer' was set out in statute, and for the first time specific departments, with separate, and increased, funding were established.  A National Park Management Plan was to be prepared and reviewed at five-year intervals.  Three Members, one from each of the principal District Council areas of Dartmoor were added to the Committee, now alongside eleven County Councillors and seven Secretary of State appointees, and indicative of a shift in the ratio of national to local representation. 
Practical work on the ground escalated whilst the great background dramas continued to be played. 
The Sharp Report of 1977 into military training requirements on Dartmoor produced little comfort for those wishing to see an end to the Services use of Dartmoor, but it did lead to the establishment of the liaison machinery between the Park Authority and the Ministry of Defence – the Dartmoor Steering Group – which has so successfully reconciled much of the conflict of interests ever since. 
The National Trust objections led to the termination of the licence for military dry training on Ringmoor in 1980, only for South West Water Authority to allow much of the same on Cramber Tor from 1981.  The new military camp at Willsworthy was approved in 1983 contrary to a National Park case that the investment was unjustified.  Also in 1983 the Okehampton bypass was approved by Government, the southern route prevailing on arguments related to 30 hectares of good quality agricultural land to the north of the town.  Seek to find more than a handful who would agree with such argument if the alternatives were being examined today. The Dartmoor Commons Act was passed at the second attempt in 1985, the outcome of a unique partnership of National Park and Commoners with far reaching consequences for better management of grazing and access on the commons.  In 1990 a public inquiry determined that fencing proposals on the A386 at Blackdown should be allowed.  In 1991 the Duchy of Cornwall renewed the military licence to train on Okehampton and Merrivale Ranges for 21 years – three times the seven-year period of licence hitherto.  In 1995 the Highway Authority pursuant to a Traffic Management Strategy for Dartmoor, drawn up with the National Park Committee, introduced the 40mph speed limit on moorland roads.
Dartmoor life has never been dull, and the National Park has not been isolated from the wide arena of change in political and administrative life that has progressed at such rapid pace in recent years.  An Independent Review Panel had produced Fit for the Future in 1991 with 176 recommendations for the betterment of National Parks. Its most significant outcome arrived with the 1995 Environment Act which established new free-standing authorities for all of the National Parks in England and Wales.  The Act revised the purposes of the Parks as:
         (i)   the conservation and enhancement of the natural beauty, wildlife and cultural heritage of the Parks; and
        (ii)   the promotion of opportunities for the understanding and enjoyment of their special qualities by the public.
An explicit duty was placed on the authorities that, in pursuing these purposes, the authorities seek to foster the social and economic well being of their local communities, but without incurring significant expenditure, and to co-operate with local authorities and other agencies whose specific task is to promote social or economic development.
Since 1974, when following Lord Sandford's Report the Park Authorities had been charged with having social and economic well being as an 'object of policy', increasing attention had been paid to these interests within the National Park communities, to which the backing of statutory duty was now being applied.  A further significant recognition of local interests came with the addition, in England only, of five Members from parish councils to the Park Authority, bringing the total membership to 26.  These Parish Members are appointed by the Secretary of State on the recommendation of the Devon Association of Parish Councils acting upon a ballot amongst Dartmoor parish councils.
  The new National Park Authority has been in place since 1997.  I have traced the evolution of the National Park on Dartmoor carefully as there clearly has been evolution, against a backcloth of events that have coloured these changes.  There is a shift in the balance of membership, now 19 with a local connection (seven county, seven district and five parish councillors) and seven Secretary of State 'national' appointees.  The socio-economic duty has been very high in the Members' minds since 1997, some would say almost to the detriment or neglect of the newly widened purposes of the Parks and their traditional core interests.  Conservation must take precedence over enjoyment wherever the purposes are seen to be in conflict.  Extensive and expensive consultation procedures are required by Best Value, and performance and audit are scrutinised as never before.
Earlier this year the china clay companies on South West Dartmoor gave up longstanding permissions, granted the very months before the first National Park meeting in 1952, to work land in the Blackabrook Valley and on Shaugh Moor. Throughout 50 years of major development dramas, and excepting Swincombe, this might be seen as the first major 'big win' and I pay tribute to the clay companies, and to the efforts of the Dartmoor Preservation Association in achieving this.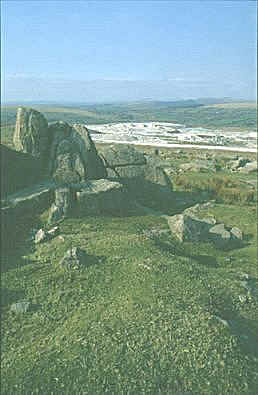 Saddlesborough, Shaugh Moor, March 1998 – no longer threatened by china clay working (photo © Dr Tom Greeves)
  Does it somehow mark a significant shift in society's awareness of environmental values and a demonstration of new attitudes and understanding?  I have always felt that 50 years of the National Park, and especially the last 25 years, have seen a myriad of small-scale achievements, but that the major development battles have always been lost.  Can we objectively assess changes on Dartmoor over that period?  Improved recording, monitoring, film, photographic and oral archive may give us a much better basis on which to assess change over the next 50 years, whilst reflecting back today over the same period is more difficult and subjective.  The Hobhouse Committee's 1947 report provided a brief contemporary description of Dartmoor depicting 'rich apple orchards, well timbered valleys, molinia grassland on the Forest surrounded by a heather zone, Cranmere Pool sought only by the more adventurous explorers, reservoirs ripe for recreational use, and active mineral workings requiring active landscape treatment.  A heavy growth of gorse and bracken smothered much of the moorland and it was suggested that continuous walkers paths might be created by a caterpillar tractor'.
Between the 1970s and 1980s the Countryside Commission's monitoring landscape change project reported an overall increase in cultivated land, grass moor, and the length of fences, and a decrease in rough pasture, scrub, bracken and the length of hedges.  Little change was recorded in woodlands and forests, upland heath, open water and the length of walls.
And what of visitor numbers, and can I now provide an understanding of the current estimates of people visiting Dartmoor?  We have no idea of the numbers coming to the National Park in 1951.  In 1978, working with the Highway Authority, the National Park Authority established a baseline for visitor numbers out of a comprehensive vehicle count across road cordons, and site visitor survey.  The figure of 8.63 million visitors was then extrapolated each year by simple update of road vehicle counters, giving a figure of 11 million by 1994 when this means was abandoned in view of its probable inaccuracy in the face of changing transport and travel patterns.  In 1994 all of the National Park Authorities, working with the Countryside Commission and others, sought for the first time to establish comparable visitor data for all of the National Parks in the same year, and as a repeatable baseline.  Comprehensive visitor survey is expensive and despite costs in the region of £70,000 per National Park, the amount of road cordon and site survey points was limited.  On Dartmoor it was recognised that a number of heavily used sites were inevitably 'undercovered' by the methods adopted and a figure of a minimum of 3.8 million day visits was established.  We recognise that reliable, repeatable, comprehensive, and affordable figures would be of great help to both the Authority and to other agencies and businesses on Dartmoor.  Work continues with the Countryside Agency to establish the means of achieving this.  Whatever historic figure is now used, its basis must always be clearly stated and understood.
If a general analysis of this and other data is undertaken, we might hazard that visitation  has only  marginally  changed,  in  recent years, and what do we glean of people's reasons for visiting Dartmoor?  The 1994 Survey listed scenery, landscape, clean air and peace and quiet as aspects most enjoyed.  Holiday visitors spend something in the order of £36 per person, including accommodation, per day and day visitors £4.60 per person, a healthy contribution to the local economy, no matter what visitor figures are used.
Some benefits and achievements
When I first came to Dartmoor in 1974 the local District Officer of the Forestry Commission lamented that every piece of granite he touched, turned out to be an ancient monument.  I have often had cause to remember this, but did so in a new context in preparing this address.  Issues of representation, cultural change, planning constraint, and visitor intrusion will always surround Dartmoor, and National Parks, and are not unique to those areas.  In a complaining society we all like to grumble about 'authority', and 'bureaucracy', and cost.  So what do you get for £26 million of grant to the National Parks in England and Wales, the £2.8 million per annum for Dartmoor?  I have never fallen out with even the most extreme supporter of intrusive development on Dartmoor, provided that they possess a full appreciation of the detail of the moor, its past and present features and qualities ('every stone …..').  To dismiss Dartmoor as barren waste, as some still do, is entirely different and always invokes my wrath.  Thus it is as regards the National Park Authority, and how often do I encourage people to read our annual report, and our spending plans, in order to appreciate our wider work before expressing criticism.  My list is long, and could be longer, but reflect for a moment on:
        the safeguarding, improvement and extension of native woodlands, and the improvement in forestry plantation design and conservation management;
        the deep reservoir of archaeological knowledge and record available for both study and to assist safeguard – to quote English Heritage 'the robust planning and conservation policies pursued by the NPA has ensured high levels of survival';
        the successful recreation strategy, honeypot site management, and Moor Care initiatives;
        the Dartmoor Commons Act (promoted and funded by the County Council at the instigation of the Park Authority);
        improvements in public transport, the Sunday Rover, and the Dartmoor Coach Route network;
        recreational codes of conduct and improving visitor standards;
the National Park Ranger Service – as the buffer between visitor and landowner and with direct links to parish councils;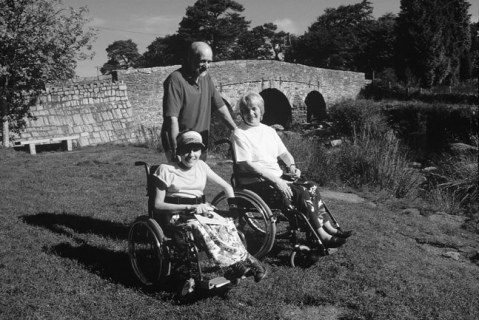 Dartmoor for All in action (photo © DNPA)
        the Dartmoor Countryside Access Group (now Dartmoor for All), Easy Going Dartmoor and Access for All;
        the Dartmoor ESA, introduced following strong NPA influence;
        some 185 management agreements with farmers and landowners and up to 25% of the NPA's budget going direct to farmers for environmental reward and assistance, or in payment as contractors;
        a rights of way network entirely accessible and signed;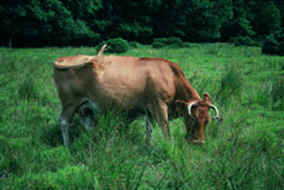 the wildlife areas rescued from threat by the Rhôs pasture initiative;
        the Dart Biodiversity Project and the Dartmoor Biodiversity Action Plan – real wildlife action in partnership;
        a free education service for visiting schools and groups;
        the quality of the built environment supported by Historic Buildings Grants, the Ashburton Town Scheme and the
Buckfastleigh Conservation Area Partnership Scheme;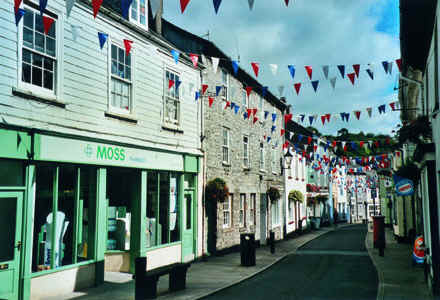 Buckfastleigh town centre (photo © DNPA)
        the quality of new development reflecting Dartmoor wide character (and look at Dartmouth, Okehampton and Chudleigh if you believe that other planning authorities would achieve better in the National Park's place)
        316 local needs dwellings built or under construction between 1988 and 2001 to help maintain a balanced community.
        the High Moorland Visitor Centre drawing 160,000+ visitors to a longer visit and use of local services in Princetown.
And overarching all of this, the consensus building approach to the Dartmoor National  Park  Management  Plan,  involving  over  90  partners  in  a  plan  for Dartmoor, establishing common objectives, joint working, and healthy co-operation across all spheres of activity.
Of course some might argue that other bodies, or local authorities could do all this if resourced and charged to do so.  But could they? Would they? Is their track record of support and defence of Dartmoor encouraging in this respect?  The focus of Dartmoor attention provided by the Park Authority has far more to commend it than any other alternative I have heard suggested.  And would the China Clay companies have given up their planning consents on Shaugh Moor and in the Blackabrook Valley if those areas had not enjoyed National Park status?
Running across almost every area of the Authority's work is our concern for the hill farmer and the hill farm economy.  At the beginning of the year, prior to foot and mouth disease, we were already talking to representatives of hill farm bodies and to hill farmers about a 'Moor Futures' initiative, to be facilitated by the Park Authority but led by farmers themselves, and to access for farmers on Dartmoor all of the new streams of European and rural development funding which Government believes are available, but which farmers do not understand, or need help and co-ordination if they are to benefit.  The farmers were clear that if the National Park Authority did not take the lead on this, no one else was likely to.  I was saddened a week or so ago to hear a Chagford farmer complain that the Authority had never had a consistent policy of support for hill farmers.  And this despite the Dartmoor Commons Act, the resources devoted to management agreements, the favourable planning exceptions and diversification policies, the practical help of the Ranger Service, and our pursuit of the Moor Futures initiative.  I look forward to Anton Coaker's presentation this afternoon with great interest.  A farmer's pride and basic reward must always remain in the quality and fair worth of his or her livestock.  Reward for environmental regard, maintenance and enhancement will be necessary to supplement livelihoods, and the National Park affords opportunities for ancillary tourism income not so readily achievable elsewhere.  The National Park Authority has the respect of the NFU, the Dartmoor Commoners' Council, and of the various government agencies whom we will continue to seek to influence for a viable future for farming on Dartmoor.
Foot and mouth disease has exacerbated the problems of hill farmers, as well as those of tourism and rural businesses who depend upon farming activities and the environment it maintains.  It also highlighted the focus for good that the Authority can provide as advocate and supporter, as the manager of access and the environment, as a communicator, and as an influencer working close to the ground with  detailed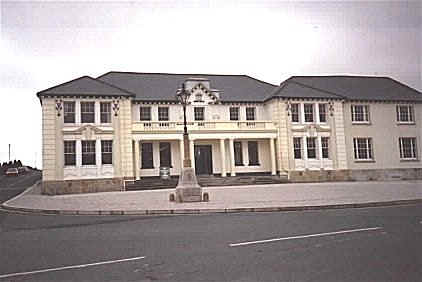 The High Moorland Visitor Centre, Princetown, April 1993 (photo: © Elisabeth Stanbrook)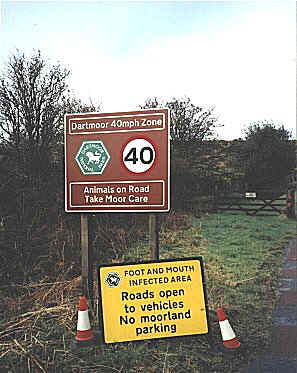 A warning sign about foot and mouth disease on Dartmoor, May 2001 (photo: © Mike Hedges)
knowledge  and  skills  to  hand.   There  will  be many lessons to be learned from the Foot and Mouth Inquiries of the coming months, but in the context of today's debate the accessibility of the Authority, its co-ordinating and communicating role, and the Dartmoor specific focus it provided, are signal lessons for the future.
The contrary view and understood criticisms
I said at the outset that I would speak with conviction about National Park values.  At the same time, I am ready to acknowledge the shortcomings of the National Park concept and the Dartmoor example, to recognise failings, and to look to build for a better future.  I do not believe that National Park status has accelerated cultural loss, or escalated house prices, any worse than elsewhere in rural areas.  Nor has it worked against traditional farming, neglected archaeology and wildlife in the face of landscape bias, or failed to address social and economic issues, certainly not in recent years and as the National Parks are currently maturing.  The focus that the National Park Authority provides, and its recognised influence, leads often to its being a victim of the measure of success it has achieved.  The Park Authority is not the Highway Authority, not the Government's agricultural agency, does  not  have  the  direct  social  and  economic  powers  and  remit  of  the  local authorities (how often are they questioned on their Dartmoor performance in this respect?), is not the Housing Authority and is not the Environmental Agency, litter or waste disposal authority.  Perhaps it should be all of these things in order to relieve some of the confusion for the Dartmoor community as to who does what and where.  All too often 'the National Park' is held accountable for matters outside its remit, but I will not dwell on this as an issue, as wherever there are problems or difficulties we are happy to take these forward with those who are responsible.
It is breathtaking that the Chairman of the Dartmoor Society should write to the Hampshire press in the context of the New Forest National Park debate stating that 'it is hard to think of any specific benefits to Dartmoor in the past 50 years arising directly out of designation as a National Park', accusing the National Parks of an overemphasis on tourism, without recognition of local inhabitants, and their staff of a cosy and complacent attitude, lacking dynamic and original thinking.  That seems ungenerous in the extreme.  If there has been conservatism it may be the product  of  eternally  seeking   consensus,  through  the  extended   processes  of consultation.  National  Parks  are  sometimes  viewed  as  test  beds  for  the wider countryside, a valid but interesting concept given the sensitivity of their outstanding special qualities.  The public response from consultation has too often been the driver against innovation rather than officer attitudes, as the model exercise at Burrator some years ago readily illustrated.  And it is the wider Dartmoor community which views alternative technology and energy proposals with misgiving, where the National Park Authority has been ready to approve wind generation at Holwell, near Haytor, and tree communications masts in the wooded scenery of the Wray Valley.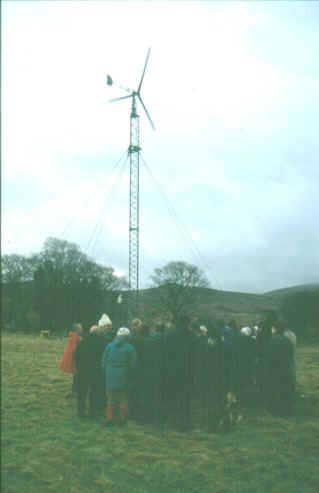 Wind generator, Holwell Farm, near Haytor, January 1999 (photo © Elisabeth Stanbrook)
  How has Dartmoor fared by comparison with other areas of the countryside in the changing face of the latter years of the 20th century?  How has the South Hams retained its cultural values and contained development, how has Bodmin Moor retained its ecological and historic features, interests, and access to enjoy those features, and how have farming and traditional farming families fared in north west Devon?  National Park status and the model now operating may not be the perfect solution, but if the National Park did not exist something very similar would very soon be demanded to fill the vacuum, and on any scale of comparison with elsewhere Dartmoor has fared well from the devoted National Park resources, and focussed attention of the last fifty years.
Measures to build for the future
Finally where do I identify shortcomings and the need for change for the future?  I expect to field many good suggestions through the rest of the day's proceedings, and I will offer a few of my own in conclusion to this address.  The new Authority is still young, four years old, and the revised purposes, duties and constitution merit longer test.  There has been a huge shift from landscape protection as modus vivendi, to that of securing public benefit.  We know that the Authority's vision for Dartmoor, the subject of wide consultation and published in the National Park Plan, is almost universally shared – the challenge is to achieve that vision together.
Representation and local democracy has been an issue since 1951.  It remains very much so in Scotland, where a proportion of the membership is to be directly elected from the National Park communities, and in the New Forest where legitimate Forest constituencies may be excluded by the 'traditional' model. The local to national balance of membership has shifted 12:6 to 19:7 over fifty years on Dartmoor, and Parish Council members have added a very welcome dimension to the Authority.  I am open minded about direct election of a proportion of membership, but know that County and District Council representation must remain to ensure the essential local authority links and influences.
I have no doubt that more community involvement is desirable and our learning curve must steepen in this direction.  Volunteer effort, local participation in biodiversity work, planning for real, village design statements, Agenda 21 are potentially powerful and helpful aides.  Harnessing that involvement demands sustained energy and manpower, expectations must not be raised only to be neglected or dashed, and involvement must not prolong or delay essential processes.  But the National Parks are for all, and we must do better in this area.
The 1995 Environment Act placed a duty on all 'relevant authorities' – public agencies, local authorities, government departments, and statutory undertakers – to have due regard to national park purposes whilst exercising their own functions.  If all of those relevant authorities had done so as soul searchingly as the Park Authority has addressed its own socio-economic duty, I know Dartmoor would be a better place this last four years.  These authorities must be encouraged to do better and audited in their regard and achievement of their duty.
National Parks are for all and there are real social inclusion issues within Dartmoor, within Devon and wider afield.  We are participating in the Council for National Parks multicultural initiative, and look to work more closely with the City of Plymouth (a health, education and an employment action zone) to achieve National Park benefits in these directions.  Where much progress has been made in promoting sustainable tourism, and sustainable visitation, the National Park is yet to be a beacon of achievement in this area.  Through the Dartmoor Tourism Partnership at a conference next month I hope greater momentum will be instilled.
There is a vast array of good management practice around all of the National Parks of which very few are aware.  If the National Parks are indeed test beds, or examples for the wider countryside, then we must communicate this good practice much more widely and more effectively.  It is in our own court if we are criticised, or misunderstood, about what we do and deliver.
And finally, and because it is the most important, our vision and support for hill farming must have sufficient influence to secure the hill farm future at the core of life, work and play within the Dartmoor community.  The revision of the Dartmoor Local Plan must ensure that the National Park's planning policies are fully relevant to this task.  Access must be secured to streams of rural development and enterprise funding that will make real differences on the ground.  Local produce must fuel local markets and be prominent in local accommodation and catering places.  The National Park can champion all these things and will do so all the better in a climate where everyone pulls together for the common goal.  In Philip Larkin's words:
         'To put one brick upon another,
         Add a third, and then a fourth,
         Leaves no time to wonder whether
         What you do has any worth.
         But to sit with bricks around you
          While the winds of heaven bawl
 Weighing what you should or can do
         Leaves no doubt of it at all.'
' 'TWAS PURTY TO HEAR THE JUMPERS GOING' – DARTMOOR NATIONAL PARK: A CULTURE MISPLACED
  by Dr Tom Greeves, Chairman, The Dartmoor Society
Born in Plymouth, Tom Greeves has known Dartmoor all his life. Trained as a prehistorian, archaeologist and historian at Edinburgh and Exeter Universities, where he obtained his doctorate on the Devon tin industry in 1981, he established the Devon Sites & Monuments Register from 1976-9. From 1979-85 he was Archaeologist to Dartmoor National Park Authority and then spent 4½ years with Common Ground, an environmental arts group in London, where he had responsibility for the nationwide Parish Maps Project.
Since 1990 he has worked freelance as a cultural environmentalist, exploring the human presence in, and relationship with, the land. He has written numerous books and articles about the archaeology, history and present-day environment of Dartmoor, which is the main focus of his research interests. He is Honorary Editor of The Devonshire Association. In 1998 he became Chairman of the newly-formed Dartmoor Society.
In Britain you could be forgiven for thinking that national parks are unquestionably at the pinnacle of a hierarchy of environmental designations, and virtually unassailable. In the words of the Countryside Agency in June of this year (A New Forest National Park – Questions and Answers, June 2001, p.2), national parks represent 'the finest areas of protected landscape'.  But this perception is by no means universally accepted, and doubting voices have been raised both in Britain and abroad. Mark Beeson and myself have published several articles both nationally and locally since 1990, questioning the concept, especially related to Dartmoor (Greeves, 1990; 1996; Beeson 1991; Beeson & Greeves, 1990;1993), and my inaugural address to the newly-formed Dartmoor Society in 1998 also explored several of the issues (Dartmoor Society Newsletter, 2, June 1998).  Marion Shoard called for the abolition of our parks as we know them, in March 1991 (The Times, 23 March 1991 – 'Stop Fencing in Nature'), largely because she perceived  them  as  not  being  inclusive  enough.  
In  1988  John  Riddall wrote a somewhat ambivalent piece for the Countryside Commission titled 'Boo for National Parks'(Countryside Commission News, October 1988, 3).   In the 1990s an Association of National Park Communities was formed to represent 'dissatisfaction with the national park movement' (N. Hacket Pain in litt. to TG  15.1.2001).  In 1991 a remarkable 10,000 people in the Brecon Beacons (nearly one-third of the population) signed a petition expressing no confidence in that park's planning department, which was said to be 'turning the park into a gigantic Saga holiday home' (Weekend Telegraph, 9 March 1991, 'Breaking out of the Museum' by John Carey).  The people of the North Pennines expressed 'deep mistrust' about proposals for a new national park there in 1992. In May 1996 a letter from a Northumberland correspondent critical of national parks was published in Country News (8, May 1996, 16-17). A body with the acronym PUMA (People Undertaking Moor Action) surfaced in South Brent in March 2000 (Western Morning News 1.3.2000).  The Lymington Times and New Milton Advertiser have included extensive correspondence recently against the proposed new national park in the New Forest (e.g. Greeves, 2001a).  A significant and closely-argued essay titled 'People in the Park – How National Park Status Threatens Lakeland Communities' by Paul Renouf of Ambleside, was posted on the Internet in May 2001 (Renouf, 2001). In 1999 I spotted the sign below with anti-national park sentiment in Armsfeld, Germany.  It reads 'National Park Nein Danke!!!'. I mention all these items to emphasize that the concept of national parks is not necessarily accepted without question and is a proper subject for scrutiny and debate.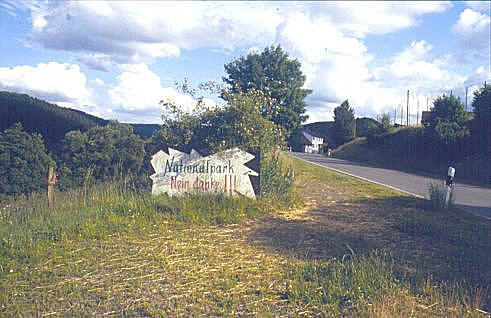 Anti-national park sign, Armsfeld, Germany, June 1999 (photo © Dr Tom Greeves)
In this presentation, I want to focus on that concept of a national park and will attempt to argue that, in the case of Dartmoor, significant damage, practically and philosophically, has been done in the past fifty years as a consequence of this label. 
I believe it has so coloured thinking, judgement and action that it is the major obstacle in the way of a renaissance in Dartmoor affairs – environmentally, socially and economically.  We need to think imaginatively and constructively about replacing our national park with something more appropriate.  I do not say this with any relish, but base it on my own experience and understanding of Dartmoor derived from a lifetime's knowledge, and more than 30 years of professional and personal involvement with Dartmoor people and their environment.
I must make it clear that I want to distinguish between the failings of the concept and the perceived failings of the national park authority itself.  There is no authority beyond criticism, and mistakes are bound to be made, but I want to concentrate on those actions that seem to me to be a direct consequence of the label 'national park', rather than the day-to-day workings of the authority, much of which is laudable (e.g. footpath maintenance).  However, there is a 'grey' area which has to do with the expectations of the general public in terms of the management of such a key environmental zone (at least as presented) – I mean, for example, the case of development control policy, or the extent to which innovative environmental activity is encouraged, and these points will be touched upon.
First, though, the label 'national park' itself is unequivocally unhelpful.  As the Countryside Agency themselves put it this year, in justifying a New Forest National Park, 'English national parks are neither 'national' nor 'parks'…' (idem, p.2). Surely this admission alone should alert us to question the very concept?  The idea is an old one, with roots in Wordsworthian response to the Lakes in the early 19th century, and a first formal manifestation in North America in the 1870s.  Even on Dartmoor more than one hundred years ago, imaginative thinkers such as Robert Burnard were urging that the Forest of Dartmoor might become a 'National Park' through Government purchase (Burnard, 1890, viii).
But the concept as eventually promulgated, was flawed – it was not rooted in an appreciation of human shaping of the land, but was based, by the time it became statute in England & Wales in 1949, on the twin notions of 'natural beauty' and 'public enjoyment', perhaps two of the vaguest principles enshrined in law. Admittedly it was partly a response to the perceived ravages of modern humankind, but it left little or no place for awareness of the thinking and approach of the indigenous peoples of the areas in question, whether native North Americans, who had used, named and respected the land without disrupting ecological damage, or the Dartmoor hill farmers, tinners, stonecutters and peatcutters who had created the landscape now suddenly labelled as 'natural beauty'.  That the  thinking has hardly moved on in some circles is apparent from a letter signed by thirteen people on behalf of self-styled 'National Park Societies' (including the Dartmoor Preservation Association) in the New Milton Advertiser in January 2001 which stated 'The New Forest is an area of great natural beauty truly worthy of National Park status'.  Now what exactly does that mean?  It is as imprecise as the much vaunted 'national park values'.
Perhaps the most damaging consequence has been adherence to the belief in 'wilderness'.  On Dartmoor this remains disturbingly strong and widespread.  The new official guide to Dartmoor National Park, published last year (Sale & Chapman, 2000) proclaims that it is 'nothing less than the truth' that Dartmoor is 'the last great wilderness in southern Britain'.  This presumably is the official line.  Countless tourist and other publications still repeat this mantra, ignorant of, or blind to, the unrivalled depth of human presence visible in the Dartmoor landscape.  Pre-eminently, the surface of Dartmoor as we know it is a human product, ten millennia in the making. Wild it can be, but wilderness it is not.  The feelings of the Zulus as recorded by Ian Player, are surely relevant: 'It was quite clear that what modern people regard as wilderness the indigenous people saw as home' (Resurgence, 185, November-December 1997).
Belief in wilderness is linked to another very suspect ideology – that of the 'eyesore' or 'disfigurement', especially regarding man-made structures of the 19th and early 20th centuries.  On Dartmoor, added impetus to this fundamentalist approach has been given by opposition to military training.   The stated aim of Dartmoor National Park, as given in the Park Plan of 1977, was to be 'as tidy, enjoyable and uncontentious as possible' (Dartmoor National Park Plan 1977, 40) – a cosy world of a two-dimensional view seen from a car window, or perhaps on a cornflakes packet. E.M.Forster, in Howard's End, published in 1910, wrote (Penguin Books edn, 1989, pp.256-7) presciently: 'Under cosmopolitanism, if it comes, we shall receive no help from the earth.  Trees and meadows and mountains will only be a spectacle.'  Instead of connecting people with the land, the emphasis has been on separation.
 The result has been a very serious loss over the last fifty years in terms of cultural relics. Literally scores of 19th and 20th century structures (farm buildings, cottages and industrial features) have been swept away in this overzealous cleansing of the land of features associated with human activity and memory.  What should strike us immediately is that such an attitude is absolutely alien to sound environmental principles of diversity.
Typical of the attitudes of the 1950s is the record of the minutes of the Dartmoor National Park Committee meeting of 17 October 1957 under the heading 'Landscape Disfigurements': 'Once again [an ominous statement if ever there was one], the Committee are indebted to the Royal Marine Commando School at Bickleigh for the removal of an eyesore.  On this occasion they have demolished by means of explosives a derelict engine bed and foundations on the banks of the stream at Wobrook, leaving the broken pieces scattered in such a way that will eventually merge with the surroundings.  The task was undertaken by the Royal Marines as a training exercise' (DCC Minutes, Dartmoor National Park, 17 October 1957, p.30).  In fact what they had destroyed was the site of an innovative environmentally-friendly hydro-electric turbine house associated with one of the most important and historic of Dartmoor's tin mines at Hexworthy and dating to 1907 (55 years before Widecombe village acquired electricity) (Greeves, 1986, 10). In 1962, the Dartmoor National Park Planning Authority referred to Foggintor County Primary School (opened in 1915) as 'a major disfigurement still to be removed' (Conference 30/31 May 1962/Route No.1, note 6).  Demolition was achieved early in 1964 (Brewer, n.d.,109, 114) by ten teenagers from Northbrook Approved School.  In the same year the National Park Committee authorised the destruction of a well-preserved granite smithy on Barn Hill by Blundell's School Cadet Force. In both cases these were key structures associated with the stonecutting culture of western Dartmoor. 
In 1962 there was even a formal request by the Park Committee for the demolition of three-quarters of the settlement of Princetown! (Dartmoor National Park Conference of Planning Authorities 30 & 31 May 1962/Route no. 1, note 18).  Further into the moor, mindless destruction took place at Rattlebrook Peatworks and at Redlake and  Leftlake  Clayworks,  leaving only confused rubble rather than coherent ruins.  In the case of clay, the irony now is that some of the best preserved remains lie outside the national park boundary, at the Smallhanger Works on Crownhill Down.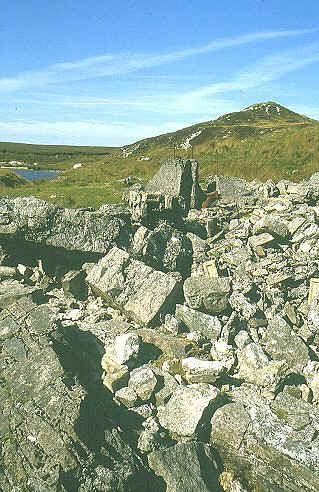 The rubble remaining after demolition  at the former Red Lake China Clay Works, September 1999 (photo: © Dr Tom Greeves)
The 1970s, 1980s and 1990s witnessed comparable astonishing acts of vandalism.  In 1976 Moses Bawden's Bungalow – built or bought by a famous Victorian mine manager in about 1875 – was summarily destroyed by the Park Authority as a 'disfigurement' (I. Mercer, in litt. to TG 22.6.1976), despite local people wishing to live there.  At Whiteworks a modern farmhouse (c.1900) and a granite shed were demolished.   In 1989 the distinctive period piece Princetown Town Hall, a gift of the Prince of Wales in 1929, was razed (Beeson & Greeves, 1990).   At Owlacombe Mine one of the last of the intact buildings relating to the historic and important mine site was ordered to be demolished in the late 1990s.  In Horrabridge, the small-scale detail of a 19th century stone shed has been allowed to be altered beyond recognition, again in the 1990s.  In 1995 a water intake structure was demolished quite unnecessarily on the Blackaven Brook below New Bridge.
In recent times, the worst example of the unexpressed but all too evident 'wilderness' policy occurred in the 1990s when there was a 'cull' of military structures on northern Dartmoor.  It was decided that only seven of the granite, turf and concrete structures, used by the military as observation posts, need be retained out of a  total  population  of  about  twenty-one. Most of these unique buildings dated to the early years of the 20th century – demolition was their fate, in some instances coupled with physical  removal  of debris in a pretence that military activity had never taken place in such a 'wilderness'.  The result is that the range of cultural  messages from  Dartmoor  is  diminished, and future generations are given no opportunity to ask questions of the quiet and harmless relics which should have been accorded as much understanding as prehistoric hut circles or medieval longhouses. Equally seriously, the remaining population of such structures is now so small that the opportunity for a flexible approach to their long-term use or conservation is radically reduced. Are metal boxes really an adequate substitute for structures built or faced with local materials?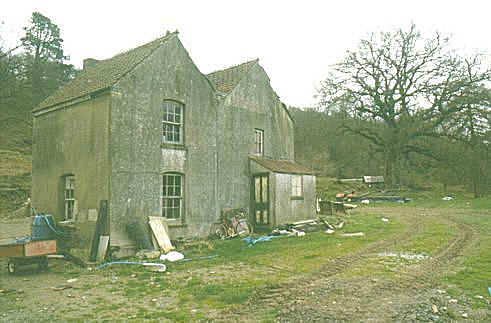 Owlacombe Mine buildings, March 1997 (photo © Dr Tom Greeves)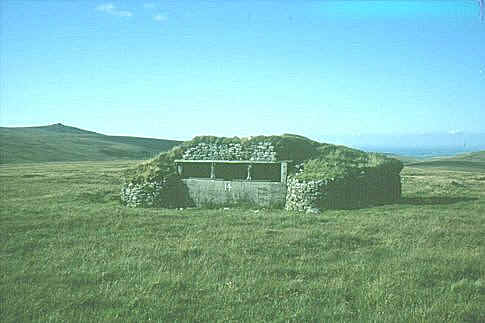 Observation Post No14, Blackaven Spur, September 1985, since demolished by DNPA (photo © Dr Tom Greeves)
The other dominant influence on Dartmoor resulting from national park status in the past fifty years has been what might be termed 'the leisure culture'. What has become   increasingly  apparent  is   that  this  introduces  urban-based,  south-east English ideas to the wider countryside. The provision of small-scale visitor facilities, car parks and information might not in itself seem unreasonable, but the process has had implications which are, I think, specially interesting and far-reaching, because they relate to perception in the hearts and minds of local people.  The weighting given to visitors has reinforced the sense of a national park having little meaning to local people.  In a few instances there has been overt resentment at the banking of road edges and the corralling of people into specific car parks – a practice which has created its own problems, especially through the creation of radiating and eroded paths.  But, in general, and especially for the first twenty-five years of its existence, Dartmoor National Park seemed largely irrelevant to local people.
The 1990s witnessed the beginnings of larger scale influence of this external leisure culture, starting with the opening of the High Moorland Visitor Centre in 1993 which, in the opinion of many local people, has done little to revive the fortunes of Princetown.
But where the urban mentality has become most apparent, with a clash of cultures most strongly evident, has been in schemes involving 'traffic management' – a highly fashionable and lucrative process, for some.  The first manifestation was a proposal in 1995 by the Dartmoor National Park Authority, in politically correct 'partnership' with the County Environment Director, to close roads around Burrator Reservoir and to build an £80,000 car park.  At two public meetings attended by hundreds of local people this scheme was overwhelmingly rejected, on a scale unprecedented in the history of the national park (Greeves, 2000).  Dartmoor National Park Authority and the County Environment Director retired with their tails between their legs, but with damaged reputations.  A more ambitious but similar scheme was revived by South West Water in 1999-2000 but by this time Dartmoor National Park Authority, to their credit, had been convinced by the remarkable strength of public feeling, and rejected it.  But South West Lakes Trust are flagholders of this style of thinking and will undoubtedly be back! – the widespread use of corporate 'leisure' signs by South West Water were hallmarks of their insensitive and alien culture.
The scheme that has revealed most tellingly the divorce between a national park and the genuine needs of Dartmoor has been the imposition of a 40 mph speed limit on ninety miles of Dartmoor's roads in two phases between 1995 and 1998.  Designed to reduce accidents involving animals, especially ponies, who could be against it?  The reality is that this scheme shows, above all others, to what extent alien  ideas  have  been  applied  inappropriately  to  a  rural  setting.   Of  all recent 'national park' decisions on Dartmoor this is the one which has most distanced people from the concept of a national park and exposed major flaws in thinking.
Of the ninety miles of road affected, only fifteen miles are those where grazing animals adjoin unfenced roads and where speeds of more than 40 mph are physically possible.  Within those fifteen miles, there are specific locations where animals congregate and are most at risk, thus indicating that there is actually only a tiny number of places where animals habitually are a hazard.
The enthusiasm with which this scheme was embraced, and the alarming lack of understanding of the nature of Dartmoor's roads and the behaviour of animals have revealed a cultural clash between those with money (£200,000 plus) and the everyday users of these roads. Metal signs and white-painted roundels now proliferate over fenced moorland roads and within ancient narrow lanes. The speed limit has had no measurable effect on reducing accidents.  A Postbridge farmer commented, ' I cannot think of anything more ridiculous to have spent money on'. A west  Dartmoor  resident  expressed  the  view  that  it  was   'A  totally  illogical desecration of a charming little corner of our heritage' (Greeves, 1999).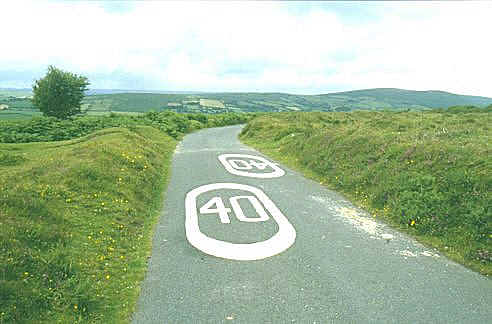 40 mph roundels on the road from Pudsham to Venton, July 1998 (photo: © Dr Tom Greeves)
The history of the scheme can be traced back to an urban culture, dealing with commuter 'rat runs', overlaid  with the  sanctity of an Americanising leisure culture complete with 'gateways' and with Dartmoor ponies at its heart, plus a dangerous mix of fashion (traffic management), money, and pressure to spend it within a short period of time.  As Paul Renouf writes of the Lake District, 'There is a feeling that current traffic management policy promotes a vested interest in exaggerating problems, prolonging the process of consultation, and fostering improbable "solutions" in order to qualify for government grants' (Renouf, 2001, 4).
To appreciate the extent to which this scheme has altered and suburbanised the feel of Dartmoor one needs to drive in the unsullied lanes of mid or west Devon.  On 75 miles of Dartmoor's roads, the law, and the national park movement, is seen to be an ass.  Even the Road Safety Unit of the Dept of Environment, Transport and the Regions, asked to monitor speeds around Widecombe, found them to be unmeasurable because of their slowness, and recommended that the County Environment Director should abandon the speed limit.  So far, he and his collaborators, Dartmoor National Park Authority, have chosen to ignore this advice for fear of losing the kudos they so glibly acquired.
Throughout  most of its fifty years Dartmoor National Park Authority has existed without any role in social or economic affairs, though since the Environment Act of 1995 the DNPA has had a duty 'to foster the economic and social well-being of local communities within the National Park, but without incurring significant expenditure in doing so' (Environment Act, Chapter III, Part III, Section 62).  The consequences of more than forty years of neglect of this dimension of Dartmoor are considerable.  There has, of course, been an implicit acceptance of hill farming as a legitimate activity on Dartmoor, though for nearly thirty years contact with farmers was minimal.  It was not until October 1980 that a system of notification of grant applications to the Ministry of Agriculture was introduced which enabled, for the first time, site visits by national park staff to individual farms.  Other activities have suffered grievously, with no support from the national park.   Perhaps most striking has been the decline of granite quarrying.  Stonecutting and granite quarrying were once essential elements of Dartmoor – on western Dartmoor and in the vicinity of Haytor, in particular, the landscape cannot be properly understood without appreciation of centuries of activity.  Yet at no time has the national park promoted or supported quarrying, it being seen as anathema to the primary purpose of the protection of 'natural beauty'. The most recent result was the catastrophic closure of Merrivale Quarry in December 1997 after 125 years of continuous work employing, at the end, a dozen men, some of whose fathers and grandfathers had worked there. The lack of interest and involvement in the quarry is characteristic of thinking and philosophy that has been more focused on the view from the road than on sound environmental  principles of sustainability and use of local resources at an appropriate scale. It is a core example of how national  park  status has  distracted  people  from understanding the real Dartmoor and its needs.   The title of my presentation, 'Twas Purty to hear the Jumpers Going' is taken from a conversation I had with Sidney French of Middle Merripit (1889-1976) in February 1974, for whom the sound of stonecutting on open moorland was music to his ears [jumpers are long iron bars for drilling holes in rock]. This deep felt appreciation, and almost poetic imagery, of work in the landscape seems far removed from the national park ethos.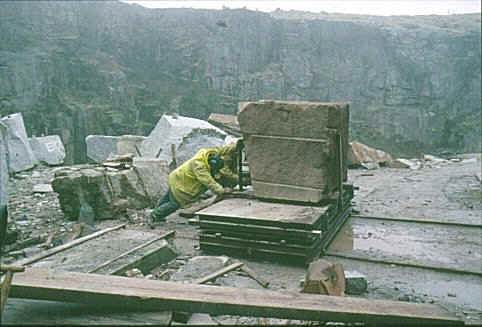 Merrivale Quarry, 1994 (photo © Dr Tom Greeves)
Even china clay quarrying, established for 170 years on south-west Dartmoor, mostly outside the national park boundary, and now operating on a scale watched anxiously, has never been examined in terms of its social and economic contribution to Dartmoor communities.  Other diverse industries have received no support from the national park – such as Great Rock iron mine, Hennock (closed in 1969) or the edge tool mill at Dunsford (closed in 1981, when 38 men were made redundant).
Another striking consequence of national park status has been the failure to deliver a democratic benefit to local communities.  Until the Environment Act of 1995, the Park Authority was a Committee of Devon County Council.  The County Council had existed for one hundred years and was familiar to everyone who, even if they had little involvement with it, were vaguely aware of a principle of electing county councillors every few years to represent their interests.  The national park somehow unquestioningly fitted within this framework.  Now, as an independent authority, the park seems strangely and unacceptably isolated in a democratic sense.  Although its twenty-six members include county, district and parish councillors, plus seven specially appointed Secretary of State nominees, not one of them is directly elected by the 33,000 residents of Dartmoor to represent them. And yet the park authority takes all the major decisions affecting development and the future of the area in question.  It is surely intolerable that so many people should, in effect, be disenfranchised?  Government appears to have recognised all is not well, for in the new Scottish parks at least some of the members are to be directly elected, and we shall no doubt hear more of this from Drennan Watson.
One of the strangest realisations of a half-century of national park status on Dartmoor is the extent to which it has provided no significant protection in environmental terms, especially regarding landscape.  It is a common fallacy that the status necessarily ensures safeguards, but the reality is very different.  National Park status has signally failed to prevent large developments such as the erection of the Hessary Tor television mast in 1953, the building of the Avon Dam in the mid-1950s, the Meldon reservoir (completed in 1972) or the Okehampton Bypass (finally approved in 1985).  A major perceived threat was a proposal for a reservoir at Swincombe in the 1960s.  This was rejected by a Parliamentary Committee in 1970, on the grounds of the technical unsuitability of the scheme, not because it was sited in a national park.  Most recently, national park status failed to protect about 20 hectares of moorland on Cator Common which, since June 1998, have been ploughed, rolled and reseeded, for the first time within living memory. 
No other large-scale development proposal has been made and rejected on account of national park status.   This reinforces a view that calling an area a 'national park' has little to do with actual conservation needs. Among the excess of designations applied to the British countryside, a legal measure of protection is genuinely given by the status of Site of Special Scientific Interest, Scheduled Ancient Monument or Listed Building, despite the fact that the criteria used to justify such labels are often more political than environmental. Most importantly, these designations are not restricted to national parks and so nobody can reasonably suggest that the features or buildings in question within Dartmoor National Park would not have been protected if the park had not existed.  In other words, if the designation 'national park' were to be removed, there would be no lessening of environmental protection for both natural and cultural elements in the Dartmoor landscape.
But by designating a national park boundary the area outside that boundary is inevitably imbued with a sense of being less valuable in some way.  Development pressure is exacerbated.  So, for example, Plymouth presses right on Roborough Down.  Clay and tungsten companies flex their muscles around Crownhill Down (recognised by English Nature to be of great importance as lowland heath); and a massive industrial estate is built on Bovey Heathfield thus reducing the flexibility of habitat for species that live on Trendlebere Down.  As Marion Shoard said in The Times in 1991, 'We expect an outcry whenever a minor road improvement is proposed in a national park.  But when the North Downs were threatened by the M25, or the South Downs by the A27 improvement programme, nobody took much notice.  After all, those areas could not matter very much or they would have been made into national parks' (The Times, 23.3.1991).  This insidious hierarchical grading of our land is no longer appropriate to the needs of conservation and the environment as a whole.  All land must be seen to be equally precious, but different in terms of meaning and information.
Unfortunately, the status of national park seems to carry with it a certain sense of complacency and lack of rigour, perhaps reflecting the woolliness of the concept itself.  The public at large not unreasonably has had expectations of what a national park authority might achieve.  All local authorities are expected to manage footpaths, wildlife sites and archaeological and historic features.  A national park is surely expected to do more?  The actual performance has, in many cases, been abysmal.   We have already seen how many important historic features have been destroyed.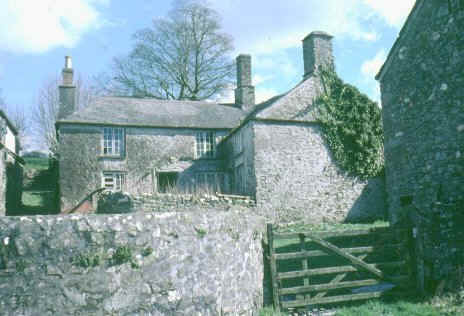 Kirkside, Mary Tavy, March 1980, prior to development (photo © Dr Tom Greeves)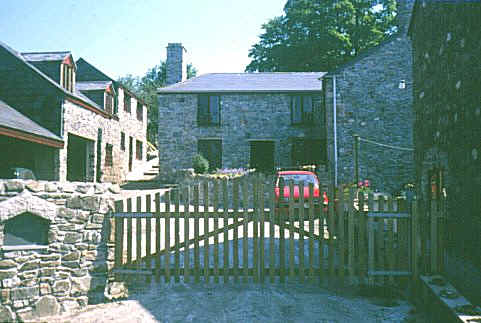 Development at Kirkside, Mary Tavy, May 1990 (photo © Dr Tom Greeves)
The activity of the park authority has been dominated by so-called development control.  Numerous errors have been made in respect of historic buildings, as at Kirkside in Mary Tavy in the 1980s, where staggeringly insensitive development was allowed next to the ancient parish church. In the centre of Throwleigh village, the ancient building shown below was allowed to be destroyed in the 1970s.
At Hatherleigh Farm, Bovey Tracey, only a short distance from the national park headquarters at Parke, a medieval building considered to be of such importance that it was about to be listed Grade 1, was totally demolished by the then owner in 1984.
Many good buildings have been allowed to slip into a state of dereliction, without any effort to support their continuing use.  John Bishop's House at Swincombe has decayed from a roofed building in 1968 to its present state as an artificially maintained ruin. Doe Tor Farm, seen below in 1969 is now just a pile of rubble.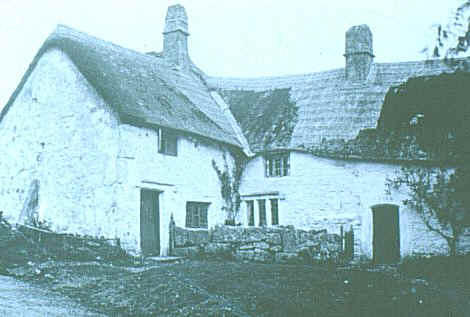 1702 building, Throwleigh, photographed in 1910 (photo Chapman & Son, Greeves collection)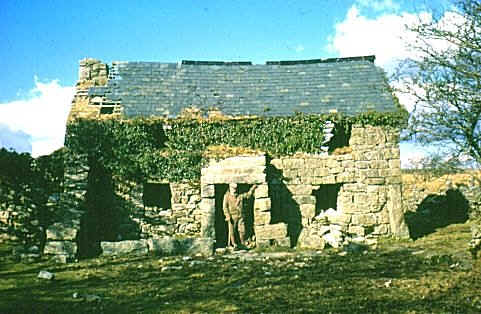 John Bishop's House, Swincombe, February 1968 (photo © Dr Tom Greeves)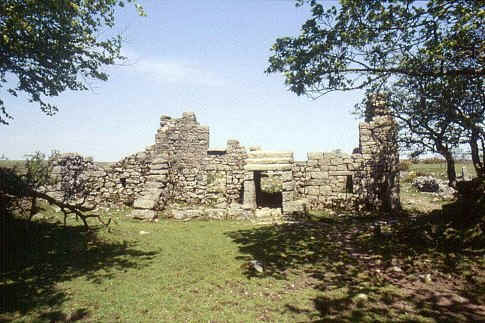 John Bishop's House, Swincombe, May 1998 (photo © Dr Tom Greeves)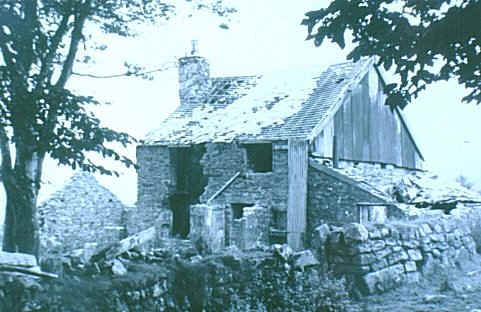 Doe Tor Farm ruins, August 1969 (photo © Dr Tom Greeves)
Twist Farm, near Peter Tavy was still roofed in 1984 but is now fast decaying.  At risk are the 1901 corrugated iron chapel at Merrivale Quarry (a key building of the stonecutting culture)  and the  Iron Store at  Burrator of the same date  which  has been recognised by Paul Dadson to be one of the most important buildings of its type  in  southern  England.  I  am  actually  supportive of the principle of allowing decay, but only once a building has no possibility of further use.  In too many of these cases, no attempt has been made to save them.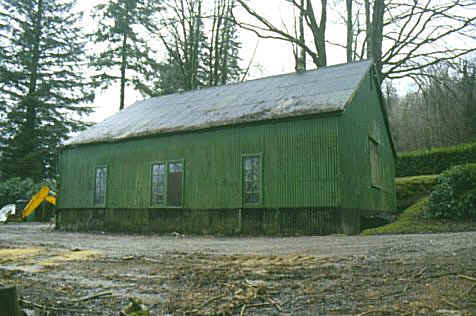 Iron store, Burrator, January 1996 (photo © Dr Tom Greeves)
The strategic housing policy of the national park seems seriously awry.  The public cannot understand how a figure of 800 houses allocated to Dartmoor for the Devon County Structure Plan period from 1996 to 2011 is likely to be 1,431 (on the national park authority's own admission), i.e. exceeded by approximately 80 per cent (Dartmoor Society Newsletter, 11, June 2001, 13).  This is a performance target so grossly off course that in other circumstances parliamentary questions might be asked.  In recent months the development at Betton Way, Moretonhampstead has raised more than a few eyebrows.  After many machinations, one of the largest developments in the history of the park (60-70 houses) has been approved on a greenfield site, without any site visit by members of the Park Authority, and seemingly pushed through against Government advice on the use of brownfield sites (which happen to be plentiful in Moretonhampstead).  Given the supposed high status of a national park in planning and environmental terms, such a situation beggars belief. Another aspect of great concern to local people has been the loss of small-scale pre-War housing, much of which has been replaced by larger and much more costly buildings.
In terms of public information, the record has been equally poor.  No first-class popular and well-illustrated books have been written and published by the DNPA on ecology, buildings, birds, plants, animals, or the history of Dartmoor. If anything, there has been a tendency to reduce publication, talks and guided walks to the lowest common denominator – a somewhat patronising 'dumbing-down'.
Of course, this is not to argue that other local authorities in Devon or the south-west have a better record, but the point is that a national park, accredited with the highest environmental principles and action, should have done better.  There has been no sense of a leading edge of ideas and decision-making emanating from Dartmoor.  Indeed, the impression given by Dartmoor National Park over a 50-year period is of an intensely conservative body, frightened of the media, of communication with the wider public, of research, and of innovation.  A cosy, superficial, homogenising mediocrity has prevailed.  Leaving aside those activities which any local authority would be expected to carry out, I cannot think of any specific benefit accruing to Dartmoor as a result of 50 years of national park status.  This is not a critique of the staff themselves – a good many of them are friends and former colleagues of mine – but the context in which they work and make decisions is, in my view, damaging to Dartmoor.
Perhaps the most significant gap has been in any action actually related to renewable energy schemes.  Surely in an area singled out for its high environmental qualities one would have expected, at least since the 1970s, research and innovative trial projects using the all too apparent resources of water and wind?   Yet there has been no connection with the land in this way.  Most recently, practitioners of a sustainable woodland community in Steward Wood, near Moretonhampstead, have not even been allowed an experimental period in which to explore their ideas.
All these elements point to an overwhelming failure in the very concept of a national park – dressed in language designed to appeal to romantic notions of landscape, the reality has been a marked failure, exemplified by adherence to the false notion of wilderness, by an urbanising leisure culture, by a democratic deficit,  by a development 'out of control' policy, by a lack of good quality popular information and by a failure to explore genuinely sustainable renewable energy schemes. In essence, the past 50 years have seen a centrist  (i.e. south-east English) culture dominate Dartmoor – it is a culture of interference and increasingly one ruled by external 'experts' from a particular planning and academic mindset, as evidenced by the heather-obsessed Environmentally Sensitive Area schemes on the commons of Dartmoor, which I have written about elsewhere (Greeves, 2001b).  I believe all this stems from the label 'national park' which has set Dartmoor apart, in the minds of those who work for the park and for the policy makers, from core human needs, and which has worked against the integration of Dartmoor and its communities with the rest of Devon.
National parks, certainly within the United Kingdom, are an anachronism, no longer suited to the modern world and its environmental requirements.  They are too superficial in their categorisation and, moreover, are a product of alien semi-urban thinking.  As the Kentucky writer Wendell Berry has warned, 'Lacking an authentic local culture, a place is open to exploitation, and ultimately destruction, from the center' (Berry, 1990, 166).
It might be argued that all these points could be addressed.  I hope they will be. If this happens, a national park will bear no resemblance to the original pre-War concept.  Indeed, it would be so different that I believe even the most ardent adherents would soon realise that the label 'national park' not only wasn't needed, but was actually obstructive.
Views such as mine are supported by major shifts in environmental awareness, thanks in part to computer advances which are demonstrating graphically the layers of both cultural and natural significance in every part of our islands.  A new environmental compact needs to be forged with the land, based on the principle of cultural diversity alongside that of biodiversity, and with equal dynamism and contemporaneity. Locality should be the guiding principle, not a spurious 'national' label.
A reliance on either agriculture or tourism, or a combination of the two, has been demonstrated to be unsustainable in this year of foot and mouth.  What is needed is much more diversity of human activity within the Dartmoor landscape – activity derived from a deep understanding of the land and based, not on the pressure of performance indicators or the latest fashionable European grant, but on the concepts of detailed research, pause, reflection and listening to the people of the place. As Wendell Berry wrote in 1990, 'I am beginning to see what is needed, and everywhere the need is for diversity…We need a greater range of species and varieties of plants and animals, of human skills and methods, so that the use may be fitted ever more sensitively and elegantly to the place' (Berry, 1990, 114).  'The two economies, the natural and the human, support each other.  Each is the other's hope of a durable and liveable life' (Berry, 1987, 76).
Thus we would have new quarries opening on Dartmoor, not as an environmental threat on account of their scale, but as essential elements in a genuinely diverse economy, and supplying a genuine local need, if necessary supported by government funding.   New hydro and wind schemes would be encouraged, again of appropriate scale, and new living schemes such as Steward Wood would be actively promoted.  Innovation and rigour of thought and action would become the new yardsticks.  A genuine pride in information sharing would become the norm, combined with the principle of gathering data.  The active management and harvesting of woodland would be encouraged, as might mining for useful minerals within a regional economy.  Even the presence of the military would be accepted with, of course, environmental safeguards, as a contribution to that essential diversity of human activity on Dartmoor which strengthens the economy and the community.  As Paul Renouf has said, 'It is important that we succeed in demolishing the political correctness which seems to sanctify National Parks to the point where normal economic activity is branded a violation of nature' in litt. to TG 9.9.2001).
So what might replace a national park?  My own hope would be a Dartmoor Authority of some sort (possibly a Dartmoor and West Devon Authority), with directly elected members, and a highly skilled staff.  I believe the removal of the label  'national park'  would  be  the most  refreshing and fundamental stimulus to sound and clear decision-making.  All protective measures would still be in place – English Heritage and English Nature would not suddenly say that the features they had recorded did not exist or were not somehow important.  They would be given their proper recognition – as part of Dartmoor, not as a national park.  Adjoining authorities would no longer feel second best, only different. To reflect the historic and modern roles of Dartmoor towns, such an Authority would probably need to include the settlements of Tavistock, Okehampton, Ivybridge and Bovey Tracey.   It is time to consider redrawing political boundaries, so that Dartmoor merged with much of West Devon to extend right to the border of the River Tamar.  This would recognise the inescapable topographical, ecological and historical fact that Dartmoor and its culture is much closer to Cornwall than to any other part of Devon.
Dartmoor needs to reclaim itself, 'without the modern instinct of deference to the "outside expert" ' (Berry, 1990, 117).   Wendell Berry sums up what should be true of all places: 'I would like my country to be seen and known with an attentiveness that is schooled and skilled.  I would like it to be loved with a minutely particular affection and loyalty.  I would like the work in it to be practical and loving and respectful and forbearing' (Berry, 1990, 117).  This is my vision, too, and can only be done if we discard the very notion of a national park and the misplaced culture it brings with it.
Bibliography
Beeson, Mark (1991) 'A superficial view of landscape', The Independent, 28 March 1991.
Beeson, Mark & Greeves, Tom (1990) 'Comment', Country Life, 184, no.33, 16 August 1990, p.43.
Beeson, Mark & Greeves, Tom (1993) 'The Image of Dartmoor', Transactions of the Devonshire Association, 125, 127-154.
Berry, Wendell (1987) The Landscape of Harmony – Two Essays on Wildness and Community (Five Seasons Press).
Berry, Wendell, (1990) What Are People For? (North Point Press, San Francisco).
Brewer, Kath (n.d.) The Railways, Quarries & Cottages of Foggintor (Orchard
Publications, Chudleigh).
Burnard, Robert (1890) 'Dartmoor Preservation', Western Antiquary, 9, 1889-90, v-viii.
Greeves, Tom (1986) Tin Mines & Miners of Dartmoor – A Photographic Record (Devon Books, Exeter
Greeves, Tom (1990) 'Gardens of Eden with Picnic Table', Weekend Telegraph, 5 May 1990, 3.
Greeves, Tom (1996) 'National Parks – Out of Time and Out of Place', The Dart, 96, Aug-Sept 1996, pp 1, 4-5.
Greeves, Tom (1999) 'Why Moor Speed Limit Must Be Abandoned', Devon Today, October 1999, 24-9.
Greeves, Tom (2000) 'Burrator: the New Planning Battleground', Devon Today, February 2000, 16-21.
Greeves, Tom (2001a) 'National Parks – Are They Desirable?', letter in Lymington Times, 27 January 2001.
Greeves, Tom (2001b) 'A Wolf in Sheep's Clothing?', Devon Today, February 2001, 20-27.
Renouf, Paul (2001) 'People in the Park – How National Park Status Threatens Lakeland Communities' [posted on Internet, May 2001].
Sale, Richard, & Chapman, Chris (2000) Dartmoor – The Official National Park Guide (Pevensey Press, Newton Abbot).
***********************  
MORNING SESSION – DISCUSSION
After the presentations by Dr Nick Atkinson and Dr Tom Greeves, the Chairman, Justin Leigh, opened up the debate to the floor.
 The first point, made by Henry Watts, was that Britain should be able to feed itself and not be reliant on other countries. Consumers should understand producers' problems and visitors attracted to a national park should be better informed about the needs of farming.  How was this being done?
 Tom Greeves  said that  he  would  welcome  any  moves  to  improve education of visitors and in fact the Dartmoor Society had encouraged this. Nick Atkinson cited improved exhibitions at the High Moorland Visitor Centre as one example of work by the National Park in this area. However, it was important that awareness of local produce was promoted among visitors.
 Graham Palmer (a Sheepstor farmer) agreed that the nation should be able to feed itself, but was concerned that little of the money spent on food found its way to the farmer. He wondered about the extent to which farmers would have to diversify into tourism and was worried that the EU seemed to be encouraging diversification to such an extent as to arouse suspicions that it was seeking to destroy farming. He also believed that the BBC appeared to be trying to smother anti-EU comment in its radio and TV broadcasts.
 Justin Leigh said that he would be pleased to discuss with Graham Palmer the BBC's position on the EU on his radio phone-in show on Monday, but perhaps not during the debate!
 Malcolm Upham asked why heather appeared to be vanishing from Dartmoor. Nick Atkinson said that there was no clear explanation, but pointed out that Environmentally Sensitive Area (ESA) schemes aimed to conserve heather. He stated that the DNPA valued heather on the moor.
Tony Hill (Dartmoor Society committee) said that he endorsed Tom Greeves' comments about the 40 mph speed limit on Dartmoor. He believed the impact of the limit on Dartmoor lanes had alienated local people. He asked if Nick Atkinson was happy with the way the scheme had been applied. Nick Atkinson replied that the DNPA still supported speed reduction on Dartmoor, but agreed that the impact of signs was adverse in some places. The DNPA sometimes found it hard to influence Devon County Council.
Justin Leigh conducted a straw poll among delegates and only around 10% of those present indicated that they supported a blanket 40mph speed limit on Dartmoor.
Commenting on several points raised by the two speakers, Keith Bungay (formerly with DNPA) felt that there was a need for control of speed, but in a targeted way. More broadly, he felt that DNPA policies had, over the years, reflected the then prevailing demands of society and the value placed by society on places like Dartmoor.
Regarding the loss of heather, he said that preservation mechanisms should be put in place, because heather areas were important in global terms.
On the subject of demolition of important buildings, his view was that the previous DNPA policy of demolishing so-called 'eyesores' surely reflected society's values then. If the national parks did not exist, he wondered what would be in their place.
Justin Leigh commented that it seemed that the national park had insufficient powers to control its own destiny.
Keith Bungay pointed out in reply that, ultimately, society would decide what the powers should be. The DNPA already had draconian planning powers, but had little power in respect of the landscape. His view was that, had the Exmoor National Park not existed, MAFF policy and farming activity would have destroyed it completely. If society placed values on certain things, then mechanisms must be in place to protect them, be it under a national park or any other suitable body.
Dr Keith Strelling (Dartmoor Society committee) referred to the controversial proposals (in 1996) by South West Water to develop Burrator Reservoir, pointing out that, if approved, they would have changed the whole character of the area and restricted recreational use. He   wondered   why   the scheme had initially been supported by DNPA, how much weight had been given to the fact that South West Water would profit from the scheme and whether DNPA had lost sight of the concept of 'sense of place'. He felt that the whole episode showed clearly why there had to be a change and supported Tom Greeves. He believed that the DNPA should be replaced by a body that had a different constitution and operated under different guidelines.
Nick Atkinson said that the DNPA had been trying to be innovative and forward-looking. Twelve bodies had been involved on the working party. He said that being on the platform at the public meeting about Burrator had been one of the most uncomfortable experiences in his 27 years with the national park. But in the end, the DNPA had listened and their change of heart had been the result of consultation.
Justin Leigh then conducted two straw polls among delegates. These showed that only a few believed that the DNPA was improving and secondly, that the great majority of those present felt that Dartmoor National Park Authority Members should be directly elected by local people. Commenting, Nick Atkinson said that the Government  was  still  reviewing  the  1997  changes  when parish councillors had been added to the authority's membership. He felt that that there was a need for a continuing relationship between the DNPA and other local authorities.
Jeremy Lawton (who had guided many groups of schoolchildren on Dartmoor) asked what alternatives there had been to the destruction of some buildings in the 1960s. He pointed out that restoration would have been expensive and that managed decay might have posed dangers to people, and particularly children, without sufficient maintenance. The military observation posts were in fact all very similar; he believed that every building should be considered on its merits, but that demolition was sometimes valid.
Tom Greeves replied that Dartmoor could be a dangerous place – should we go to the extent of fencing all tors and bridging all streams? He felt that minimum interference was the best principle. He was not in favour of restoring every single old building, nor of active conservation measures, and consequently did not feel that expense was an issue. Some of the demolished buildings would still have been very sound today. The key point about the observation posts was that, with so many now gone, it had become imperative for MOD to maintain the few unaltered examples that survive.
Lt Col Tony Clark (Ministry of Defence, Commandant Dartmoor Ranges and also a local farmer) said that all military structures that still existed had a functional use; otherwise he could not justify to the Government the funding of their retention. He stated that there were some problems in maintaining these structures.
He felt that the national park had responsibility without power and this had led to local people being unsure as to which body they should express their views. It was his view that an elected national park authority would help with the stated duty of furthering socio-economic issues. Overall though, there appeared to be too many bodies charged with local administration.
Justin Leigh asked Tony Clark why the military needed Dartmoor. Tony Clark replied that [following the deliberate crashing by Middle Eastern terrorists of airliners into the World Trade Center in New York and the Pentagon in Washington DC on 11th September 2001] the military now on exercise in the Gulf had relied on Dartmoor as an essential training facility to enable them to defend the interests of the population.
Richard Jefferies (Yer Tiz Caravan Park, Okehampton) suggested that the military could train on Dartmoor without the need for live firing.  Could live firing not be conducted in Wiltshire or in indoor ranges?
In response, Justin Leigh conducted a straw poll among delegates and there was overwhelming support for the continuation of live firing. A further question to the floor confirmed that delegates' views had not been altered by the events of 11th September 2001.
Peter Crozier (a Princetown farmer) pointed out that during the six months of 2001 when foot and mouth disease had led to Dartmoor being closed to walkers, there had been benefits to wildlife through being left undisturbed. As one stated principle of the DNPA was that conservation should over-ride tourism, would this mean any future restriction to favour wildlife?
Nick Atkinson said that the Government also required national parks to work to attract visitors, so there was a difficult balance to be struck.
Justin Leigh said that one view might be that tourism should be encouraged, as it generated more income than farming.
One delegate raised her concern that environmental interests were suggesting that public access to Dartmoor should be restricted.
Tom Greeves said his view was that humans share land with wildlife and so it was up to humans to use land properly.
********************  
AFTERNOON SESSION
A VIEW FROM SCOTLAND
By Drennan Watson, OBE, Landwise Scotland
Drennan Watson's background is as a specialist agricultural researcher and teacher on crop protection, on the movement of toxins through the food chain, and on environmentally induced illnesses in livestock, farmers and farmworkers.
Since 1986 he has worked as an independent consultant and trainer on environmental management. He has been a director of the Highland and Islands Forum, and founding chairman of the North East Mountain Trust and also Scottish Environment Link. He is President of the Scottish Countryside Rangers Association. He has recently been much involved with the issue of the boundary of the new Cairngorms National Park and also with a Biodiversity Strategy for North East Scotland. In 2001 he was awarded an OBE for his services to environmental management.
Drennan Watson described the process that was being followed at present in Scotland in the formation of national parks and outlined some of the many problems and questions that were being encountered along the way.
Two major national parks were to be created, at Loch Lomond and the Trossachs and in the Cairngorms. The Cairngorms in particular would be a huge national park of up to of 7000 square kilometres in area (depending on the outcome of boundary fixing), three times the size of the largest English national park. The Cairngorms are an old landscape with granite formations similar to the Dartmoor tors, but these have been elevated by ancient ground upheaval to heights averaging 3500 feet. As on Dartmoor, the military train there and it has powerful rivers. Drennan pointed out that since the formation of the Deer Commission (whose aim was to limit the deer population), the number of deer there had quadrupled!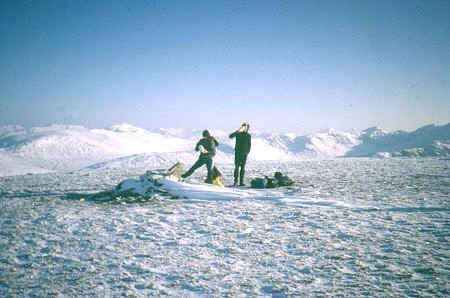 On the Cairngorm plateau in winter (photo © Drennan Watson)
Land use in Scotland had an interesting history, stemming from when Queen Victoria had bought the extensive Balmoral estate. The aristocracy then bought estates to keep up with royalty, and the nouveaux riches bought estates to keep up with the aristocracy! This had led to a situation where, in the early 20th century, one fifth to one quarter of Scotland was being used for deer hunting.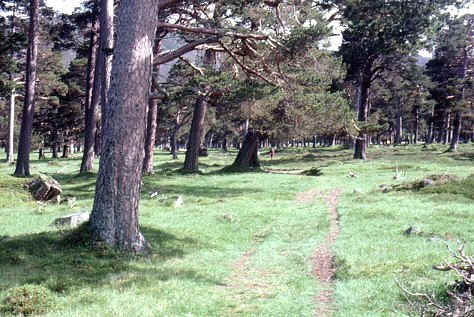 Ancient forest on Mar estate, showing centuries-old pines, but no younger trees due to grazing of seedlings by red deer (photo © Drennan Watson)
 The four aims of the Scottish National Parks were as follows:-
1)       To conserve and enhance the natural and cultural heritage of the area.
2)       To promote sustainable use of the natural heritage.
3)       To promote understanding and enjoyment of the special qualities of the area by the public.
4)       To promote sustainable economic and social development of the area's communities.
Drennan outlined  the  circumstances  in Scotland that would have to be taken into account in managing the national parks to meet these four aims:-
Physical and biological circumstances
The soils and climate were difficult, accessible wilderness was vulnerable.
Mountain and seas were mingled – national parks in the west should include sea areas.
No one area could be designated as representative, owing to the great diversity that occurs in Scotland.
Geology, wildlife and wilderness had high international value.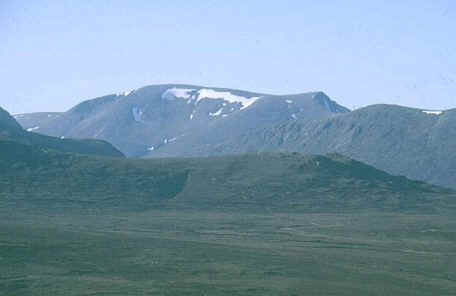 The southern Cairngorms from upper Deeside, showing the sense of space and scale (photo © Drennan Watson)
Socio-cultural circumstances
The Gaelic Scots lived in a harsh environment with much valuable archaeology – their culture and others must be valued.
Ecological degradation had occurred and restoration must be a major aim – and did deer forests make sense?
Land usage in Scotland was at a critical point. There were demands from agriculture, forestry, sport and recreation which could not be ignored.
'Private' sporting estates dominated.
The wild country had much potential.
Other issues that had arisen were:
1) What's the problem?
There were underlying trends such as
global v local environmental concerns.
the differing needs of urban and rural populations.
the needs of outsiders and insiders.
the fact that 'top down' and 'bottom up' approaches need individuals and agencies to make them work.
whether to use coercive or non-coercive ways of securing national park aims. As an example, Drennan thought that the problem of diffuse pollution from agriculture was best tackled in a non-coercive manner.
There were emergent values and land uses. Relevant factors are:-
Single or multiple land use
Single or multiple land ownership
Public goods v private good
Drennan noted that the 'mountain' industry employed more people than any other in Scotland.
There were also special problems to be tackled, such as the value to be placed on a person's sense of identity. These could be complex and dynamic, with no clear solution. That people should work together was universally accepted, but how they did so was as important to success.
2) Where's the boundary?
The problem of defining a national park was first to fix the boundary – but should this be based on geography or on social characteristics? A social boundary could be very blurred – and many bodies have a say. The number of different environmental boundaries was already extensive in the Cairngorms.
3) Achieving integration
This was very difficult when Scotland was so diverse – for example it had over 400 different soil types
4) How to reconcile opposing forces
For example, the EU farm budget pushed in the opposite direction to the needs of conservation. Drennan told how one owner obtained a forestry grant to plant trees and then claimed compensation because the land in question was a Site of Special Scientific Interest and could not be planted!
5) Ground rules were needed
For example, decisions would be needed whether to allow a house to be converted to working premises.
6) Methods and skills in process management were needed
It would be necessary not only to educate town people about country people, but also vice versa. Dialogue not monologue was needed.
7) Who will be the planning authority?
Ministers were very wary about allowing any body other than local authorities to have planning powers.
8) Who would be on the Park Boards?
There would be 25 members, 5 of whom would be directly elected. The remaining 20 would be Secretary of State nominees, 10 of whom would be recommended by local authorities. Drennan felt it important that the Board should have a good general knowledge of how land worked – but specialist knowledge was the job of the staff, not the Board members
******************  
THE FUTURE OF HILL FARMING
by Anton Coaker
Anton Coaker was born at Great Sherberton Farm on central Dartmoor and bears a surname that echoes through generations of Dartmoor farmers. His life and work has been farming, though he also has his own timber business. His Galloway cattle, many of them nurtured from stock lines which can be traced back more than one hundred years, were all slaughtered as a 'contiguous cull' in this year's foot and mouth crisis.
He wrote eloquently about the state of hill farming in The Western Morning News of 16th April 2001.The presentation which follows appeared subsequently as an article by Anton in The Western Morning News of Wednesday 17th October 2001.                             
Is there a future for hill farming in the United Kingdom, in or out of a National Park? No, not as a self-sustaining industry. The job hasn't been viable for some years and is unlikely to change, unless a way is found of blocking or restricting the import of competing products from countries with lower standards of living and/or cheaper land and weaker currencies.
We are, of course, being propped up by subsidies and if the general population, and their government, desire to maintain what they see in the hills, I see no alternative to keeping some system of support in place. I'm not happy about that, not least because it is demoralising, doing a job that doesn't appear to stand on its own feet.
There are ways we can improve our industry's viability, but they arrive with their own problems.  
Direct selling – There are many of us direct retailing our product, to try and get a better income, or more to the point, any income at all. But this isn't farming this is shop keeping. We have to become grocers and butchers, to afford to keep up our hobby… farming.
I should say it has been an eye-opener, selling beef & lamb direct to the consumer.   Almost everyone I'm dealing with, and this probably goes for my colleagues, seems grateful for the chance to buy direct from the farmer, and are very happy with the product. Whereas the conventional route for our beef and lamb leaves us feeling like the poor relatives. Hill sheep and cattle, bred to survive extremes of climate and terrain, are always the wrong shape, and too small for the supermarket.   Oh, they'll maybe take them, but at a lower than normal price, and the normal price is lower than the cost of production already.
Anyhow, I should take this opportunity to thank, on behalf of all my colleagues, those of you who are buying direct. It is making a big difference to us, both financially and to our self-respect.
Diversification – There's a good buzzword. "Struggling farmers should diversify".   At least one Minister put it honestly, when he said…. "Farmers should get another job…. do your farm work in the evening".   He obviously doesn't know how much time we spend on paperwork.   DEFRA send us forms, almost daily, that require many lengthy phone calls, to their various offices, in office hours. Perhaps the car factory would give us night shifts, with flexi-time at lambing and harvest. 
What Westminster doesn't seem to grasp is that diversification isn't now just a good idea, it has become an essential aide, on most farms, to prop up the industry.
This is the food industry we're talking about, that most primary, fundamental root of our complex society.  Things really are that bad.
Park Keepers – It is widely assumed that industry support is heading towards "land management".  We are to be "custodians of the landscape".  This is fine, you can throw me all the cash you like, call me what you will – and some of you have.   I'll wear a smock, I'll chew a grass stem, and I'll even say, "ooh ah" to the visitors.   But remember, there will be precious little pride in my job. It will no longer be a profession to which I would wish my children to aspire.
Hill farming in such a future would become increasingly insular.   Outdated, out of touch with society.   Perhaps the world will go off on a circular journey, catching us peasants up from behind. Who knows, in 20 years we may be at the cutting edge of contemporary thinking! 
Seriously, if conservation and environmental schemes are the future, I believe it is vital that the great and the good remember what farming really is – producing food from the land.
The best I can hope for, from whatever transpires, is that the inescapable constants of hill farming continue to give us a solid framework from which we can hang reasonable lives.
In case this is all a bit serious for you, I should explain some of those inflexible rules of hill farming that make us what we are.
It is a proven fact; any group of spectating ramblers will reduce the sheep dog to a ravening savage wolf creature, or possibly a fawning, roll-over-play-dead moron.   There's no in-between state and no amount of parentage questioning will help.
If the hay harvest has been a dream, balmy evenings seeing all safely gathered in, the only field to get rained on will be the one beside the main road, so everyone can watch. This rule applies to the baler breaking down as well, and overconfidence will be rewarded with combinations of the above.  Spare a thought for poor Farmer Mudge; all his hay fields are strung along the main road. Still, the sweepstakes we can run help the rest of us get through the dampest of summers.
If two students come to help at lambing time, one will be able to stay a week, and the other can help until Whitsun. Guess which one is a natural with sheep, and which one can hardly remember which end of the sheep the lambs come out of?
In the complex weave of breeding hardy hill stock, that will thrive in the worst conditions, it is an unbreakable rule that the best ewe will fail to produce daughters for 5 years, then have twin ewe lambs, one of which she'll lay on and the other the fox will get.
Hill men study these matters closely, and I suspect some stock judging criteria cross over into their domestic lives. I will admit that whilst Alison and I were courting, she helped me calve a heifer, which had been sulking around, just at dusk. We went out, in a gale, blowing sleet down and up all the places you'd not want, with a torch and some ropes, at 10.00 pm. By midnight, we had the heifer confined in a corner, over at Brownberry. The corner was rather full of gorse bushes that the ungrateful heifer pushed us through before we finally delivered her of a fine strapping calf. I walked away happy. If Alison could stick this sort of evening, I'd obviously found a wife (and the calf was up). Another difficult calving story, a few years later, on a much kinder evening. Alison was, by this time, busy with children. So I phoned a neighbour, "sorry he's at a meeting" came the reply.   So did calls to the next 3 neighbours. I'd have to manage on my own. I went back out but the heifer and I couldn't relieve her of her burden. Luckily, someone at the meeting had phoned home. The meeting was duly wound up so that those present could rush off to help calve Anton's heifer. It took the four Land Rover loads of them until the wee hours – 10 minutes to complete the job in hand, and 3 hours to search for Nirvana at the bottom of a whisky bottle.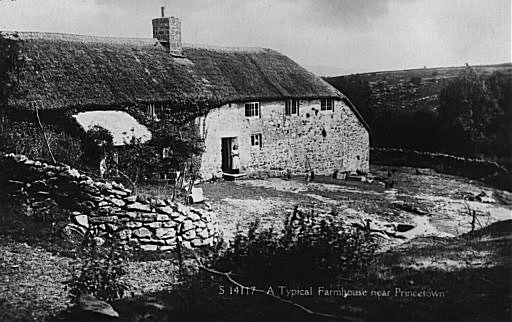 Anton Coaker's Great Sherberton Farm in the early 20th century (photo: Elisabeth Stanbrook collection)
And the most fundamental rule of all… the rain. Hill farmers will surely all be going to heaven for enduring all that rain. I remind you, this time last year, it rained for 100 days straight. The rain gauge at Princetown, during 2000, collected 113 inches.
If you couple that to the fact that we made no money in 1999, knew we were going to make none in 2000, and even then, the prospects for 2001 weren't good, and we just kept on doing it, feeding cows and chasing sheep.
I suspect there is a whole new field of psychiatry in the hill farmer's mind.
So is there a future for hill farming on Dartmoor? It seems there will be, albeit a subsidised future, helped by specialist marketing and part time work, and only then because we're just too daft to stop.
To close, I've carefully omitted to mention the events of last spring, which gave me reason to question my own future in farming. I suppose I can draw on my experiences, basing some of my predictions on my own reaction to that chapter in my life.
During early March, the Ministry destroyed all the sheep and cattle on Sherberton.   None of these animals were showing any signs of foot and mouth disease, and it was the most excruciatingly stressful experience, for all concerned, and was repeated on hundreds of farms elsewhere, near and far.
The total loss of our century old Galloway herd was only salved by the saving of the majority of the South Devons, which were away at keep.  They were missed by only a few farms.
Dr Greeves asked me to speak about the future of hill farming. For me, at least, in spite of everything, there is a future. My South Devons are, if Alison has secured the promised licences this morning, coming home tomorrow.
**************************
AFTERNOON SESSION  – DISCUSSION
Henry Watts raised the first point in the afternoon discussion, stating that subsidy should not be a matter of apology. Food was essential for health and the country must maintain an ability to produce its own food.
Justin Leigh asked Anton Coaker his views on whether the National Park had been beneficial.  He replied that the DNPA had been very supportive of farmers during the foot and mouth crisis and before. More widely, he did not believe that the National Park had been harmful to Dartmoor; he assumed that, if the National Park were abolished, a like-minded body would replace it.
Dr John Barkham pointed out the differing terminology that was used to describe funding of different activities. Roads were always described as receiving investment, whereas farming and the railways were subsidised. In his view this was an insulting distinction to make – investment in farming would certainly be the appropriate term.
He felt that farming was linked inextricably to the National Park and that, on the question of ponies, their numerical decline in the last 10 years had affected moorland ecology. There were conflicting ecological demands that were difficult for the DNPA to resolve. For example there was concern over the decline of heather, but this was a very species-poor plant. Bracken, however, is a species-rich plant that competes with heather and is also threatened by reduced grazing.
Despite the problems and conflicts, he was in favour of the National Park, but it must evolve.
Freda Wilkinson agreed with Dr Barkham about the decline in ponies. She stated that there had been some 30,000 Dartmoor ponies before World War II, but in 1987 there were around 2,800 and now there were fewer still. Yet ecology badly needed the help that came from grazing. She appreciated that the DNPA had been trying to help, but money was needed.
In reply, Dr Nick Atkinson said that it was important to get any available funds into the pockets of farmers, not administrators.
Justin Leigh asked Nick Atkinson if the National Park should be managed differently post foot and mouth disease. He replied that National Parks in general were pushing for a stronger role in rural development programmes.
Drennan Watson raised some interesting points in answer to what he had heard so far. He thought that the current plight of farmers should be put in comparison with the mass redundancies in Glasgow shipyards in previous years. He believed that farmers such as Anton Coaker should not fear having to be shopkeeper-butchers – after all that was what farmers once did. Perhaps one of agriculture's problems was that it had lost touch with its customers. Flexibility was needed.
Chris Leighton (Moor Trees) said he would like to see more oak woods, which could then perhaps be harvested by farmers. He wondered what kind of landscape we wanted farmers to be managing.
In reply, Anton Coaker said that oak woods would not be very big or the trees very productive at the generally higher altitudes of Dartmoor.
John Roberts said that there could be a mix of tree planting to suit the various altitudes, e.g. Douglas Fir could be planted at lower elevations. He thought that foresters, not farmers, should manage such activity, although he was probably biased, being a forester himself!
Freda Wilkinson pointed out that much of Dartmoor was common land and people could not just do anything they liked on it. She believed that 100 years ago, there had been fewer trees than there were now.
In response, Chris Chapman (photographer) said that he had seen archive postcards in the Throwleigh Archive that confirmed her view. Demand on trees 100 years ago was much greater than at the present day. He believed that trees were wrong for Dartmoor, which was much better suited to grazing – which made farming on Dartmoor very important.
Ru Roberts (a Holne farmer) pointed out that in the 1940s, 50s and 60s, a Dartmoor farmer did not only keep animals, he also carried out activities such as coppicing, hedge laying and wall building. Farmers had been paid to do all these things and she thought that the narrowing of farmers work had been harmful to Dartmoor.
She thought that the conclusions of Lord Haskins' Rural Task Force were unhelpful [they had stated inter alia that farmers should be more willing to diversify and not be reliant on subsidy] and that we should stick to the title 'farmer'.
Bridget Cole (a farmer) said that the Government had created problems through the subsidy system, which had originally been introduced to maintain hill farmers and the social structure in hill-farming areas. However large EU subsidies had in effect forced farmers to pursue certain farming practices. What was needed now was a proper price for the product, so that farmers could afford to do all the rural maintenance that would be required of them as subsidised park-keepers.
A delegate said she was  now  buying  local  produce and  thought that this was the way forward. She asked what the DNPA could do to help with economic development ideas, such as farmers' markets.
Nick Atkinson replied that, post foot and mouth, farmers were now more willing to work together and several groups had approached the DNPA for help. He was sure there were many ways in which the National Park could help.
Anne Whitbourne said there was a need for the population to be educated about where food comes from. She asked what the DNPA was doing about education; Nick Atkinson replied that there had been no specific education initiatives about food from the DNPA, but was confident that the many visitors to the South West would have noticed the fine quality of local food and that hopefully they would have spread the word at home.
Drennan Watson said that education about products cut both ways. He drew attention to the way that, in France, Provence cheeses were promoted strongly as local Provence products, in contrast to the way different varieties of cheddar cheese were marketed in the UK without reference to their place of origin. Justin Leigh commented that, post foot and mouth, people seemed to be asking more about where their meat came from and were demanding local meat to a greater extent.
Keith Bungay believed that food quality had suffered from post-war intensive specialisation. Regarding paying for conservation, he thought that farmers could make money from it. 'Park-keeping' by farmers could be charged for through seeking grants from existing funding sources and through Environmentally Sensitive Area (ESA) schemes. ESA schemes should be regarded as simply a means of payment, not as support. National Parks should be, and indeed were, lobbying for more funding for ESA schemes.
Nick Atkinson confirmed that such lobbying took place, but said he was disappointed that some farmers have not taken up the DNPA's offer to carry out environmental assessment alongside post foot and mouth business assessment. Such joint assessments would help to establish the overall value of farming.
Bridget Cole thought that one problem was the trend for working families to need ready-cooked meals.
Mrs Peggy Upham referred to a DNPA leaflet that she had picked up at Buckfast Abbey at lunchtime.  This was all about tourism and guidance on Dartmoor, and contained nothing about respect for those who lived there.
Nick Atkinson replied that that particular leaflet was not intended for that purpose. Points about respecting local people and their livelihoods appeared in the DNPA publication Dartmoor Visitor.
Dr Christine Linfield (Dartmoor Society committee) commented that the emphasis by DNPA appeared to be more on tourism rather than communities.
Nick Atkinson agreed, but said that the situation was now changing, following the 1995 Environment Act. Hopefully the balance would soon be right.
Lt Col Tony Clark (Ministry of Defence, Commandant Dartmoor Ranges and also a local farmer) asked what the vision was for Dartmoor – what did people want it to look like in 50 years time with or without a National Park? 
Dr Tom Greeves said that we had the opportunity and the power to create whatever we wanted. We could alter the landscape by removing or reducing the number of animals – this was already happening. 100 years ago, there was certainly more heather than now, but there was also evidence that heather was largely absent during the periods of tinworking and prehistoric fields. We could create more diversity of industry, such as working quarries, but should not be rushed into using or be seduced by fashionable funding schemes, such as those emanating from Brussels – instead, a deep understanding of Dartmoor should drive the outcomes. He was encouraged that the DNPA was beginning to take socio-economic considerations into account, but feared that ultimately the label 'national park' would get in the way of real achievement.
Justin Leigh suggested that there was a risk, in involving more people in decision-making, that conflicting views might result in delay or even no action at all.
Dr Tom Greeves agreed that this might happen, but thought that the Dartmoor Commoners' Council could have a key role in managing the commons in the future because its members represented generations of Dartmoor hill farmers and almost instinctively knew what was right for the well-being of hill farming.
In reply to Justin Leigh asking him what his own vision was, Lt Col Tony Clark said there were so many questions and he welcomed the Dartmoor Society holding the Debate. The key question was did people want the Dartmoor as seen by the Widgery  father  and  son  artists,  100  years  ago,  or one of earlier times. In other words did people want 'the clock to be stopped' in their vision of a conserved Dartmoor? He felt that this could only be addressed by bringing more people into the debate.
Richard Manning (New Forest Defence Association) outlined some of the problems faced by the New Forest in its transition to a National Park. He said that the New Forest's prime problem was that the M3 motorway made it only 50 minutes from London and large influxes of visitors. The debate was between conservation and recreation – driving across Dartmoor that day, he had not seen a single person on the moor, but it was never that way in the New Forest.
The New Forest had a 40mph limit, but all its roads were unfenced. He said that most people in the New Forest did not want a National Park. As on Dartmoor, there were to be no directly elected representatives and indeed the Government had resisted that suggestion. He urged Dartmoor people not to tolerate the worst excesses of recreation, because it was killing the New Forest. He did not believe that control of recreation required a National Park, but he aimed to try and use the National Park for that purpose once it had been formed.
A delegate wondered how people could be persuaded to spend money when visiting Dartmoor, rather than simply driving on to the moor, eating their own sandwiches and driving away again.
Drennan Watson said that there were pressures from recreation, but felt that the rural population did not always understand the needs of recreation. He felt that outdoor recreation and gardening were now the only two links between rural and urban populations. It was therefore essential that outdoor recreation must be well managed, to satisfy urban people, but at the same time to suit the aspirations of rural people.
Justin Leigh then proceeded to draw the Debate to a close, drawing warm applause from delegates for the speakers.
Dr Tom Greeves, Chairman of The Dartmoor Society, thanked delegates and speakers for attending. He also expressed his gratitude to Justin Leigh for chairing the Debate so effectively, and this was heartily endorsed by the delegates.
**************************
Acknowledgements: The Editor would like to thank Dartmoor National Park Authority, Elisabeth Stanbrook, Dr Tom Greeves and Drennan Watson for use of their photographs in this publication. He is also grateful to Elisabeth Stanbrook for the loan of her audiotape of the Debate.