Debate 2018: 'Are We Using Dartmoor's Stone Resources Wisely?'
20th October 2018, Meldon Village Hall
On 20th October 2018 some 55 members and non-members gathered at Meldon Village Hall. Tom Greeves began by reminding everyone that the society had previously held debates on Renewable Energy, Water, Woodlands, Vegetation, Orchards, China Clay, Railways and Villages, and that Stone was the last key natural resource of Dartmoor to be explored.
The day began with a presentation by Kevin Page of Plymouth University on 'The geological origins of Dartmoor stone'. This was actually delivered very effectively by Mike Barr, as Dr Page was unable to attend. Using very clear and colourful diagrams the audience were spellbound by a story beginning 400 million years ago which traced shifting continents (Avalonia onwards), climates and upheavals. The Devonian period was named by Sir Roderick Murchison and Professor Adam Sedgwick in 1839 in celebration of the unique geology of Devon, and now represents a phase of geological time from around 420 to 360 million years ago.
The Armorican rocks of Devon and Cornwall – which include those surrounding Dartmoor – represent a microcontinent in the middle of an ocean between the continents of Avalonia to the north and Gondwana to the south. During the Devonian period these continents were moving apart, driven by plate tectonics. These stretched the Earth's crust which sank, creating basins into which sediments, washed down from the continents, accumulated.
What is now South Devon was covered by tropical seas. Deposits include the Devonian-aged limestones of South Devon. These rocks have long provided local building stones, but also ornamental 'marbles', one of the most famous being the Ashburton Marble, rich in the fossil corals and coralline sponges that made up Devonian reefs. 
The sea deepened through the later part of the Devonian and early Carboniferous periods, some 350 million years ago, and the reefs were swamped by mud – while volcanoes erupted across the region. Lydford Gorge is late Devonian. The muds were compacted to form slates (e.g. Yennadon). The volcanic rocks include Hurdwick Stone, much used in Tavistock. A volcanic 'bomb' can be seen in the wall of Tavistock Town Hall. Brent Tor is the product of early Carboniferous volcanic activity about 330 million years ago.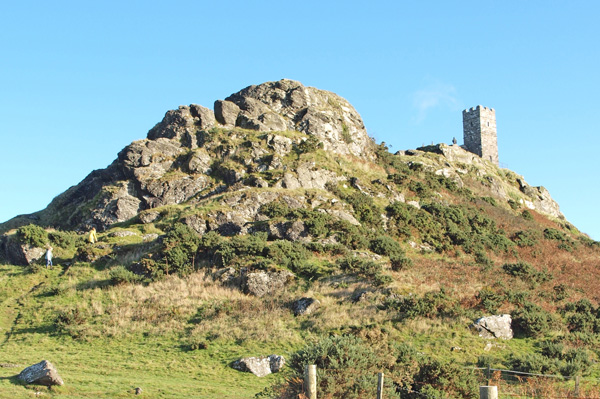 The volcanic peak of Brent Tor – Steve Mason
By around 300 million years ago, into the Permian period, Avalonia and Armorica were moving together, and this continental collision squeezed out all the sediments which had accumulated in the seas between the continents, pushing and stacking them over each other to create a mountain range of Himalayan dimensions. This period of mountain building is generally known as the Variscan Orogeny, but sometimes as the Armorican Orogeny, and it led to the construction of the massive, pole-to-pole supercontinent of Pangaea.
The sediments of the former seas were piled on top of each other, and sank into the Earth's mantle where they began to melt, forming a molten magma that rose through the crust above, eventually cooling and crystallizing as granite. Every block of granite shows these characteristic crystals – clear quartz, white feldspar and black biotite mica – these were once the sands and muds of sedimentary rocks.
The hot granite magma, at around 800 degrees Celsius, altered the sedimentary and volcanic rocks into which it was intruded, creating a zone of cooked rocks, known as the metamorphic aureole, around 1km thick around its margins. Within this zone, the original minerals within the host rocks have often been recrystallized to form new minerals. Some of these metamorphic rocks, known as hornfels, have been worked for aggregate and other uses, most well known at Meldon. The metamorphism also led to the formation of rich metalliferous mineral deposits, as hot fluids crystallized to form mineral veins.
The next phases of Dartmoor's geological evolution left very little trace, as the Variscan mountains were rapidly eroded away into the hot deserts of Permian and Triassic times from around 300–200 million years ago. They were then all but drowned by the rising sea levels of the Cretaceous period 100 million years ago – with probably little more than a few desert islands poking out.
The sea receded and the granite was once more on land, by around 50 million years ago (Palaeogene and Neogene periods). Extensive forests developed across the hills, full of redwood trees, like those of California today. Meanwhile, the warm moist conditions and tropical weathering led to the extensive alteration of the granite bedrock to form sand, by releasing the quartz crystals and china clay as the white feldspar decomposed. Some of the oldest deposits of these rich clays are the ball clays of the Bovey Basin, which formed in large lakes as rivers drained the hills, washing down the clays.
This process of bed-rock weathering continued into the Quaternary period, from around 2 million years ago. Global climates fluctuated from ice ages to relatively warm interglacial phases, and back to ice ages again, all driven by cyclical changes in the Earth's orbit and 'wobbles' of its axis of rotation.
During the warmer and wetter interglacial phases, granite near the surface continued to rot as the white feldspar decomposed to china clay. There were forest elephants, hippopotami, hyenas and large cats across Dartmoor!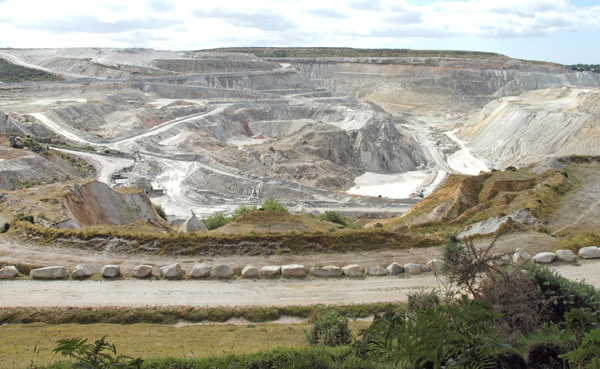 Headon China Clay Works – Steve Mason
Throughout the ice ages of the last 2 million years or so, Dartmoor was covered by extensive permafrost and possibly small ice sheets. The Merrivale area is famed for its periglacial landscape of around 90,000 years ago in the Devensian period. Mammoths, woolly rhino and reindeer roamed the land.
Intense permafrost shattered surface rocks. The top metre or so of the permafrost seasonally melted, moving a sludge of broken rock and weathered granite downslope, to leave towers of hard unaltered granite rock standing as tors, and scattered blocks as clitter, all of which have been exploited over millennia for a wide range of local needs.
 After coffee, Wilfrid Hodges took over as chairman for Tom Greeves' presentation of 'The archaeological and social legacy of Dartmoor stonecutting'.
Although we have not yet any proven examples of purposely worked monumental stones in prehistory, it was clear that many of the stones used in stone rows from the 4th millennium BC onwards, such as on Cut Hill, in stone circles such as Grey Wethers and in hut circles, were very carefully selected for their shapes. Moreover, we have some stones with cupmarks, as at Brisworthy, which showed that prehistoric people were prepared to modify stone.
Early Christian memorial stones and crosses from the 6th century AD onwards were carefully shaped, and the wonderful legacy of dressed stone in churches, farmhouses and bridges is a testament to the skills of stonecutters. The monolithic granite pillars in churches are particularly impressive, as at Ashburton, and were often brought miles off the moor on sledges.
The earliest evidence of stonecutting is in the form of wedgemarks – regular slots cut in rock. This technique goes way back into the medieval period and continued until about 1800 when a revolution occurred with the introduction of the jumper for splitting stone, which was used for drilling thumb-sized holes into which iron feathers and a tare would be placed, which was then hammered to prize the stone apart. The sound of moorland stonecutting was music to the ears of Dartmoor people. Sidney French (1889–1976) remarked that it was 'purty [i.e. pretty] to hear the jumpers going'.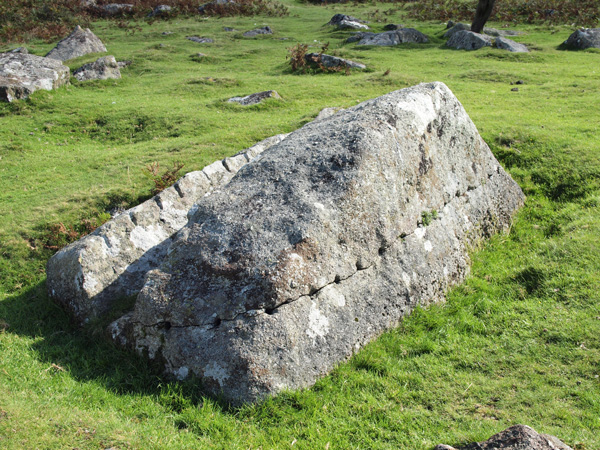 Feather and Tare marks on a boulder at Pew Tor – Steve Mason
Fine-grained hardwearing granite was selected for use as tin mortarstones or mouldstones.
Dartmoor has some of the finest archaeological landscapes of stonecutting, especially in the Haytor area and west of Princetown. Wheel-ruts can still be identified which were made for carts to reverse into for loading stone off the moor. Protective marks were cut around Pew Tor in 1847 to prevent damage by stonecutters. The fine 19th century blacksmith's shop on Whitchurch Down was demolished in 1964 with the encouragement of the National Park Authority. West Dartmoor has a fine suite of sett-makers' bankers where granite was cut for setts (i.e. cobbles) and kerbs of the streets of towns, especially in the 1870s.
Quarrying began on a large scale in the early 19th century, most notably at Haytor and Foggintor, both served by horse-drawn tramways of the 1820s. Both provided much stone for London (e.g. Covent Garden) and elsewhere.
Evidence survives of crane bases, and characteristic 'finger-tip' spoilheaps. Scores of quarries existed, including those for limestone and metamorphic rocks and slates. For many years Meldon Quarry produced railway ballast. Merrivale Quarry (1875–1997) had a terrace of twelve cottages for workers and their families, and Foggintor School was built for the children. The Wesleyan chapel of 1901 at Merrivale Quarry was also used as a Sunday school and later became a mess hut. Regrettably, no effort has been made by authorities to conserve it.
Circular Crane Bases at Ingra Tor – Tom Greeves
The building of reservoir dams from the late 19th century onwards required further quarrying and sometimes light railways.
Photographs of quarry workers in the 20th century are rare. There were stonecutters' smallholdings at Rundlestone.
Glendinning's Linhay Quarry at Ashburton and Yennadon at Dousland are inheritors of the long Dartmoor tradition of stonecutting and quarrying. Recently there has been artistic felt response to this legacy, as exemplified by the 'GRANITE' concert at Ashburton as part of the Dartmoor Resonance Music Festival in June, and by Peter Randall-Page's 'Granite Song' sculpture on the R Teign.
Next Mike Barr spoke on 'The importance of local stone; its use for building on and around Dartmoor'. He has surveyed the whole county of Devon on his electric cycle, noting use of distinctive stone. For the Dartmoor region he emphasizes the importance of granite and elvan, micro-granite, schorl rock, Roborough stone and contact metamorphic rocks.
Dartmoor granite was often used for quoin stones and around doors and windows of churches and other buildings, even many miles from Dartmoor proper, as shown in map form. At St Michael's, Kingsteignton, the granite door has a relieving arch of alternating grey mid-Devonian limestone and red Permian sandstone. The walls are of grey limestone. In Tavistock, Hurdwick stone is used for the Ford Street almshouses, with granite lintels for the windows. In Walkhampton is use of microgranite and spotted slate. The parapet of a bridge at Peter Tavy is of altered gabbro and has granite coping stones.
Wall of Yennadon Stone, Yelverton, with Mike's Bike – Mike Barr
At Cheston, between Ivybridge and South Brent, a wall is composed of leucocratic granite, including pink granite with dark spots richer in tourmaline, and banded chert. Cullaford Bridge at Scoriton has slate, Teign chert and microgranite. St Boniface House at Buckfastleigh has mid-Devonian limestone and dark fine-grained igneous rock. 'Vuggy fawn and orange granite associated with black chert' was spotted at Doddiscombsleigh.
Of special interest is the use of Roborough stone which is a very distinctive vesicular stone, with phenocrysts of quartz up to 5mm in size, which was highly prized south and west of Dartmoor. St John's church, Woodland and St Edmund's church, Kingsbridge both use this stone, although a long way from its source on Roborough Down. The tower buttresses of St Mary's, Bickleigh, on the edge of Roborough Down, are of Roborough stone alternating with Devonian slate. Buckland Abbey makes use of it too. Evidence of linear quarries on E-W dykes still exist on Roborough Down between Hoo Meavy and Bickham, on both sides of the A386 near the turning to the Moorland Garden Hotel (formerly Moorland Links) and on the southern portion of Yelverton Golf Course.
Quartzy schorl rock has been used for walls in the Cornwood-Lee Moor area, and at Ashburton and around Holne, i.e. on the margin of the granite. At Bovey Tracey, by the parish church a fine wall has pale Dartmoor granite, but also blocks of very black chert. Grey blocks in the coping and elsewhere are of schorl rock. Another block with a blackish surface is of granite peculiar to Bovey Tracey with fractures coated in black prismatic tourmaline crystals. 
Contact metamorphic rock is illustrated by an example from Christow of grey slate with porphyroblasts, perhaps of andalusite. The church at Moorhaven is almost entirely of metamorphic rock but also has grey limestone quoins and brick and Bath stone dressings.
Northeast of Mary Tavy, a wall is composed of marginal varieties of Dartmoor granite and black hornfels. The latter can be found around the edge of the moor. Spotted slate, often regularly cleaved, is another distinctive stone, e.g. at Kirkella, Yelverton.
After lunch, Barry Wilson, Managing Director of Glendinning, and Ian Glendinning, Chairman, jointly presented 'Limestone: its use and history of quarrying at Ashburton'.
Limestone is a sedimentary rock composed mostly of calcium carbonate in the form of the mineral calcite, formed 360–380 million years ago from accumulations of shell, coral, algal and fecal debris in warm tropical seas.
The stone from the Linhay Hill Quarry, Ashburton, is used for agricultural lime, and for construction (aggregates and hardcores, bitumen coated asphalts (tarmac), ready-mixed concrete, walling and block stone, breeze blocks, and pre-cast concrete (paving slabs and kerbs)). Geologically it is known as Chercombe Bridge Limestone.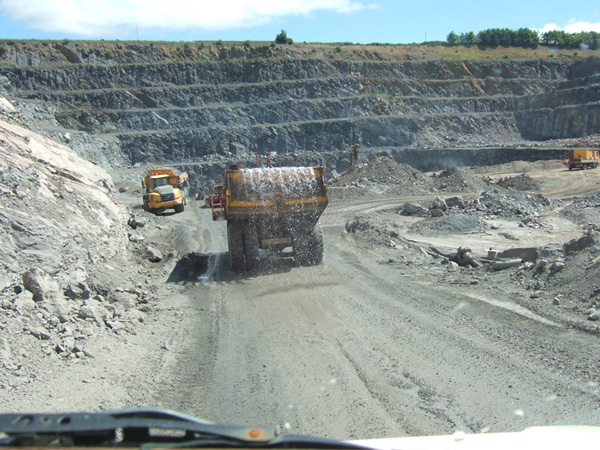 Glendinning's Linhay Hill Quarry, Ashburton – Tom Greeves
The origins of the quarry predate the 18th century. Limekilns are shown on the tithe map of c1840 and by the Ordnance Survey map of 1906 there were four quarries in the area. Limestone was used for local buildings and for the prestigious Ashburton Marble.
The present quarry was worked by Frank Badcock from 1948. Ernest and Jack Glendinning, who previously had a chalk quarry in Dorset, bought it from him in 1958 for £20,000, and wisely made land purchases throughout the 1960s to allow for expansion.
Ian showed a video of quarrying methods of the 1960s and 1970s with anecdotes about the lack of health and safety, etc.
Today, technology and competition drives efficiency. Almost everything is controlled by computers, including blasting. Nearly everything used to be built in-house, but now none of the equipment is made in Britain. A 70-tonne dump truck has just been ordered at a cost of £475,000. Asphalt can be produced at the rate of 200 tonnes per hour.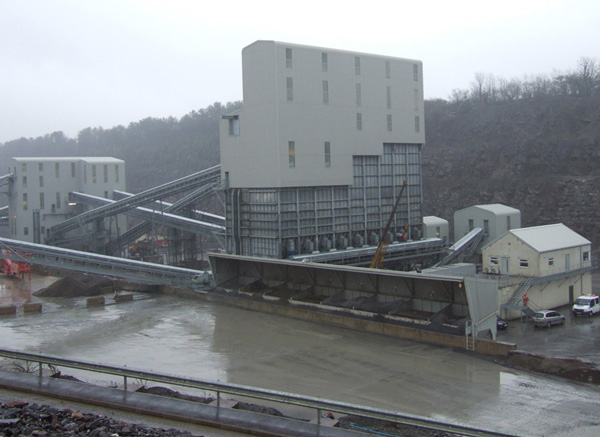 Processing Plant at Linhay Hill Quarry – Tom Greeves
The quarry has 7 years of reserves – a current planning application, which will allow for expansion of the quarry eastwards for 40 years, has already been in process for nearly 3 years, and there is 'overwhelming' support for it. Most products travel within a 30-mile radius of the quarry. There are some 200 employees but only about a dozen extracting stone (50–60,000 tonnes can be blasted in one operation). Money generated spreads throughout the local community.
The final presentation was by Andrea Robertson of John Grimes Partnership Ltd on 'Yennadon Quarry: continuing Dartmoor's tradition of supplying building stone'.
Yennadon Quarry lies approximately 300m to the east of Dousland on the lower moorland fringe of Yennadon Down. It lies just within the boundary of Dartmoor National Park. Yennadon Down is common land that forms part of Meavy Common.
The quarry has existed for at least 150 years. It is a 'hard rock' slate quarry that produces dimension stone for local buildings and walling, and is the only remaining operational dimension stone quarry within the boundary of the National Park. It continues to make a significant contribution to the character and appearance of the local built environment, and also represents part of the living cultural heritage and legacy of Dartmoor.
An excavator working in Yennadon Quarry – Barrie Quilliam
The first documentary record of the quarry is in 1844. Its existence relates to the industrial history of the area, in particular the presence of the Plymouth and Dartmoor tramway, opened in 1823, which ran along the west side of Yennadon Down. This horse-drawn railway ran from granite quarries near Princetown to Sutton Harbour (approximately 25 miles). The railway had a gauge of 4ft 6in, with cast iron rails fixed onto granite blocks which acted as sleepers. A siding served Yennadon Quarry and probably the nearby Yennadon Iron Mine (working in the 1830s). The tramway was superseded by the Great Western Railway (Princetown Branch), opened in 1883. 
During the 19th century there were scores of quarries scattered across Dartmoor. On the First Edition OS map of 1883 four other quarries are shown in the immediate vicinity of Yennadon. Later OS maps show the quarry expanding. By 1953, the quarry is marked as 'Old Quarry'. However, the quarry was re-opened in the 1950s by the Trembath family who worked it for many years. Following a short period of closure, it was re-opened under the current management in 2002. 
The longevity of the quarry relates to the quality of the building stone it produces. The quarry is located in the Tavy Formation, which is part of the Tamar Group of Devonian sedimentary rocks. The Tavy Formation mainly comprises pale green and grey-green slatey silty mudstone, with minor thin fine-grained sandstone beds. Metamorphism has resulted in the mudstone sometimes becoming more 'slatey'. 
At Yennadon Quarry, the Tavy Formation has been altered by the Dartmoor granite intrusion with high temperature 'contact' metamorphism. This recrystallized the mudstone into a Hornfelsed Slate, which is particularly strong and durable in comparison to slates from outside the metamorphic aureole. Slate stone is the predominant building material in the moorland fringe settlements and is very evident in the fabric of buildings, walls and other structures.
The market name for stone produced from Yennadon Quarry is Dartmoor Rustic Stone, although it is often referred to as Yennadon Stone, which has distinct and unique characteristics. The stone is flat 'bedded' and nearly all the joints (naturally occurring discontinuities) within the rock are set at virtual right angles, so that rectangular or square blocks are formed. All the natural faces have rustic colouring, ranging from yellowy to rusty brown hues, with blueish grey tones on the cut faces. It has distinct subtleties in colour, tone and patina, creating an attractive and variegated overall appearance. It is also resistant to both frost and weathering. Its reputation in the market place is as a good, flexible, high quality building product. 
The main demand from the construction industry is for new builds, extensions, boundary walls and building repairs and 99% of the market is throughout Devon and Cornwall. It plays a key role within the national park, for the historic built fabric in many local settlements with the moorland fringe areas. 
Outside the National Park, settlements such as Tavistock (World Heritage site), Okehampton, Plymouth and Ivybridge, as well as numerous smaller hamlets and farmsteads, use slate stone that is similar to that from Yennadon Quarry. As the only quarry supplying metamorphic slate, Yennadon now plays an important role in making appropriate building stone available for building and conservation projects. 
Planning policy for Dartmoor National Park encourages the use of appropriate local stone in the construction of new buildings and structures in order to maintain the distinctive local character of the moor. Design guidance and related Conservation Area Appraisals identify the importance of using local metamorphic stone in construction projects in moorland fringe areas. Historic England stresses the need for a supply of natural stone to conserve the historic environment and maintain local distinctiveness. Their report on Mineral Extraction and the Historic Environment states that 'Technically suitable and compatible materials should be used' and that the stone should 'closely replicate the original in its appearance, chemical, physical and mineralogical properties, strength and durability'.
The Strategic Housing Land Availability Assessment for Dartmoor identifies that nearly half of the sites available for housing are in areas which have an underlying geology that is slatey, and therefore generally appropriate for use of Yennadon Stone. Maintaining a local source of building stone quarries should thus be a major consideration of planning authorities. 
The stone at Yennadon Quarry is extracted and processed with 'low technology' methods, using traditional techniques, but with modern labour-saving equipment. It does not employ 'prescribed' processes such as drilling, blasting or mechanical crushing that require pollution prevention or control permits. 
The quarrying operation maximises the material suitable for sale, with approximately 40% of the stone excavated being non-saleable waste, which will be used for landscaping during phased site restoration. Production over the past 7 years has averaged 5,500 tonnes per annum. 
Four excavating machines are available, with usually only two in operation at one time, using either a breaker (pecker) attachment or a ripper-tooth attachment. In general, excavators are used for 20%-25% of the working day Monday–Friday (i.e. for approximately 2 hours during a 9 hour working day) and for 5 hours on Saturday during 'muck shift'. 
Stone suitable for building is hand-selected into the bucket attachment of the excavator, before it is placed in one of two small (6 tonne) dumper trucks. These trucks operate approximately 50% of the time, and are mainly used to transport stone from the extraction area to the saw shed. Once there, the building stone is loaded onto the cutting tables, where blocks are cut with a diamond impregnated circular saw blade running under constant water spray to suppress dust. Smaller stone suitable for walling is recovered using a screening bucket attachment known as a spinner, which enables the excavator to remove (sieve out) waste stone.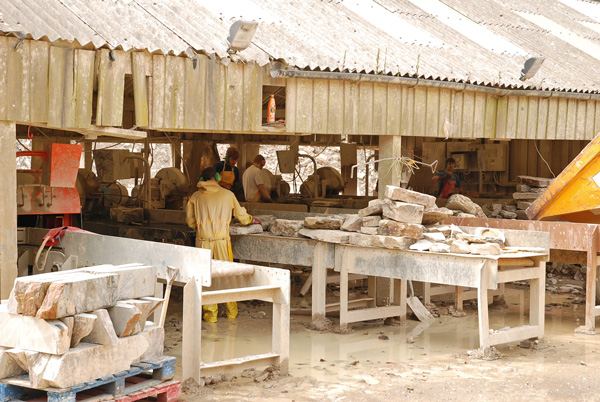 Stone dressing in the saw shed – Tom Greeves
The quarry has received planning permission from DNPA to extend its working area to the north. There will be no changes in production methods and no increase in plant or vehicles, output rates or operating hours. The extension of about 1 hectare will enable the quarry to maintain current levels of economic activity and full employment (usually around 25 personnel) until 2026, when it will close.
To mitigate the impact of the extension, the most visually prominent areas in the south-eastern corner of the depleted part of the quarry will be progressively backfilled and landscaped, creating habitat for local species. 
Yennadon Quarry is one of the oldest industrial features on Dartmoor that is still operational. Both the early success and longevity of Yennadon Quarry are all due to location. The quarry continues to produce high quality, high strength and high durability slate dimension stone that has a proven market demand. By continuing extraction at Yennadon Quarry, the quarry maintains a source of this locally distinctive building stone that is essential in maintaining local distinctiveness. 
After tea there was a discussion session.
Tom Greeves began by drawing attention to some Dartmoor National Park documents, adding that it was regrettable that no employee of the National Park or member of the NP Authority was present.
There is little or no reference to local stone in the Development Management & Delivery Development Plan Document (2013), the Management Plan (2007), or even in the Design Guide (2011). The Dartmoor Society commented in 2011 that there seems to be a disconnect between the guide and the local economy as the guide (p23) asks the question 'does it make environmental sense to import granite from China or slates from Brazil when there are locally sourced supplies available?', without offering an answer. Similarly on p74 there is the statement 'Traditionally slates came from south and west Devon, but are no longer available', without further comment.
The Core Strategy Development Plan Document (2008) has a general presumption (p66) against the exploitation of any mineral resources within DNP unless there is a national need, which implies unsustainable importation. Tom was not aware of any analysis of Dartmoor quarries for which the Historic Environmental Record would be a starting point. Types of quarry, their distribution and chronology could all be studied.
A more sympathetic approach towards local stone and its use is hinted at in the current Minerals and Waste Development Topic Paper, perhaps partly influenced by the Strategic Stone Study (2012) by English Heritage, who also produced Sourcing Stone for Historic Building Repair (2006).
Judy Ehlen lives in Haytor where some walls are said to be made of Tavistock Stone and she wondered if that stone had been extracted from Yennadon. Mark Hufton confirmed that Yennadon Stone is often referred to as Tavistock Stone, so he believed that could well be true.
Tony Hill felt that the answer to the question in the title of the Debate 'Are we using Dartmoor's Stone Resources Wisely?' was 'No, we are not'. However, the Stewardship grant scheme had enabled landowners to re-use stone on their land for repair of boundary walls. 
With rising sea levels coastal defences must be continually improved and Dartmoor has got thousands and thousands of tonnes of rock in waste tips (e.g. at Merrivale and Foggintor) which could be used for this purpose.
Tom Greeves commented that the tips themselves do have intrinsic historic and archaeological value. He recalled that Merrivale Quarry sent stone to Eastbourne.
Tony Clark said that when he was Commandant at Okehampton Camp he often required stone for repairing military tracks and always had a problem finding suitable stone, which was sourced from Liverpool and other areas beyond Dartmoor.
Tom Greeves commented that nobody made any effort to prevent the demise of Merrivale Quarry in 1997. At the time, the quarry received no subsidy, but maybe in the future quarries could be subsidised, like farming.
Barry Wilson said that since 2001 Glendinning has been taxed a levy of £2 per tonne on aggregate, to improve the environmental performance in the industry. Initially it was donated to good causes but now goes straight into a Government fund. DNPA is a Mineral Planning Authority and has to conform to national planning criteria.
Tony Clark said that under the Moor than meets the eye programme many kilometres of dry-stone walling are being restored, but there just isn't enough stone available. When he was renovating a 'building at risk', it took him three years to acquire sufficient granite. DNPA should be encouraging people to source and use local materials.
Tom Greeves mentioned the importance of Roborough Stone in historic structures, as highlighted by Mike Barr, and wondered whether stone might be cut from Roborough Down, but the extent of the resource was not known.
Judy Ehlen said that sourcing materials for listed buildings was very difficult.
Susan Taylor remarked on the usefulness of reclamation yards – a neighbour restoring a cottage was delighted to find a beautiful piece of Ashburton Marble. 
Tom Greeves mentioned that the National Trust had used stone from Blackingstone Quarry for some of the repair work at Castle Drogo.
Geoffrey Taylor felt there wasn't always sufficient dialogue between DNPA and English Heritage to encourage more use of local materials and the sharing of ideas.
Tom Greeves felt that the majority of innovative ideas are being generated by Government rather than DNPA.
Mike Barr commented that he had observed that churchwardens are often very knowledgeable about where to obtain local stone.
Courtney Heard was frustrated by the planning system because he had a quarry weighbridge building on his land that was in ruins, and he decided to start rebuilding it exactly as it had been before, but DNPA had told him to stop.
Tom Greeves asked about new housing and the need for stone.
Barry Wilson said that the majority of the stone will be used for rendering and cladding.
Tony Clark commented that it is vital to recycle stone for these purposes.
Tony Hill said if you are looking to produce mass housing for local people who are restricted by a limited budget, the houses would have to be provided as cheaply as possible. He recalled that Merrivale in its last years was reworking stone from as far away as Scotland. 
Tom Greeves observed that staff numbers at Glendinning are probably very similar to the number of staff they had at Foggintor back in the 1800s (though only a small proportion are involved in the extraction process) and are vitally important for the local economy.
John Clarke mentioned that Meldon Quarry provided ballast for British Rail and asked about supplies for HS2.
Tony Hill said that Meldon supplied ballast for the Southern Region of British Rail and part of the Western Region. For HS2 there is a reserve of 6 million tonnes of ballast in Meldon Quarry. The ballast may go to HS2 but what is more likely is that ballast quarried in Leicestershire will be used.
Tom Greeves then asked about any environmental implications of using local stone.
Barry Wilson said that at Glendinning they are trialling using recycled plastic pellets instead of bitumen in the tarmac for the roads. They are now operating under a Government scheme known as Responsible Sourcing which provides guidelines ensuring they use Global Sourcing Principles.
Tom Greeves made a final comment to ponder over – that the extent of land-use of quarrying is relatively limited compared to the damage to the land and historic environment caused by commercial forestry operations on Dartmoor.
He then thanked everyone very warmly for their contributions to a very interesting and informative day.
Photo of the speakers (L–R): Mike Barr, Barry Wilson, Tom Greeves, Ian Glendinning, Andrea Robertson –  Photo: Lis Greeves